Wales - More Information
Wales or Cymru (kumree) in Welsh, is part of Great Britain and is bordered by England to the east and the Irish Sea to the north and west. In the south the Bristol Chanel separates it from Cornwall across the waters.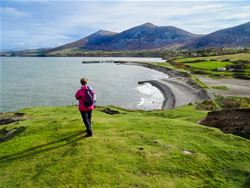 Wales has over 1,680 miles (2,700 km) of coastline and is largely mountainous, with its highest peaks in the north and central areas, including Snowdon (Yr Wyddfa), its highest summit.
Welsh national identity emerged among the Celtic Britons after the Roman withdrawal from Britain in the 5th century, and Wales is regarded as one of the modern Celtic nations. Llywelyn ap Gruffudd's death in 1282 marked the completion of Edward I of England's conquest of Wales, though Owain Glyndŵr briefly restored independence to what was to become modern Wales, in the early 15th century. The whole of Wales was annexed by England and incorporated within the English legal system under the Laws in Wales Acts 1535–1542. Distinctive Welsh politics developed in the 19th century. The Welsh Language Society was developed in 1962 and under the Government of Wales Act 1998, the National Assembly for Wales holds responsibility for many decisions and policies within the country.
At the dawn of the Industrial Revolution, development of the mining and metallurgical industries transformed the country from an agricultural society into an industrial nation. During its heyday coal mining encouraged a rapid expansion of Wales' population. Two-thirds of the population live in South Wa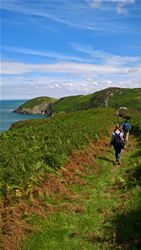 les as a result and the nearby valleys are reminiscent of that mining era. Now that the country's traditional extractive and heavy industries have gone or are in decline, Wales' economy depends on the public sector, light and service industries and tourism.

Wales is blessed with stunning landscapes for most of its interior and a beautiful coastline from the far north to the very south. Population is confined to the South around Cardiff, Swansea and Newport leaving the rest fresh, green and ripe for exploration.
Although Wales closely shares its political and social history with the rest of Great Britain, and the vast majority of the population speaks English, the country has retained a distinct cultural identity and is officially bilingual. Over 560,000 Welsh language speakers live in Wales, and the language is spoken by a majority of the population in parts of the north and west. From the late 19th century on-wards, Wales acquired its popular image as the "land of song", in part due to the eisteddfod tradition. Rugby has also caused the country to be recognized as a symbol of Welsh identity and an expression of national consciousness.
View all our Walking Holidays in Wales