---
Holiday Highlights
Based in the spectacular Julian Alps mountain range which extend into Austria
Jagged peaks are softened by tranquil Lakes Bled & Bohinj, renowned for their beauty
Enjoy a variety of ridge walking, alpine meadows, deep gorges and unspoilt villages
Request A brochure
Send Us An Enquiry
Overview
Walking
Pricing
Map
Accommodation
Info
Slovenia is situated just south of Austria and to the east of Italy also sharing borders with Hungary and Croatia. It is one of the newest members of the EU having joined in 2004. Most of our walking takes place in the north of the country in the Julian Alps. This range forms part of the Southern Alps which extend into Austria. The spectacular mountains in this area are predominately limestone, and their jagged forms produce stunning vistas wherever you look. The area is softened by beautiful, tranquil lakes in the valley bottoms and also amongst the rocky crags. Two of the largest lakes, Lake Bled and Lake Bohinj, feature in our programme.
The beauty of Lake Bled, one of our centres, is world renowned and attracts world-wide visitors. It is a natural mineral spa lake with its medieval castle, island with church and the surrounding Alps as a stunning back drop. Nearby is Lake Bohinj, a lake set amongst the higher mountains of the Julian Alps in the Triglav National Park. This park covers 320 square miles and is where some of our walking takes place. The valley floors are full of picturesque villages whose inhabitants still rely on farming and its agricultural products for their income. The Slovenes are most welcoming people, friendly and more than happy to help you explore their country. English is spoken by everyone who readily comes in contact with visitors. The Slovenes are deeply proud of their way of life, and undoubtedly you will be tempted by their food which offers a host of national dishes many influenced by the cuisine of neighbouring countries. Slovenia also produces excellent wine. The Slovenes share with the Swiss in the national sport (or so it seems) of walking. It is a commonly held belief that a Slovene is not a Slovene unless he/she has climbed to the top of Triglav, the highest mountain in Slovenia, at 2857m!
There is walking in Slovenia to challenge the most demanding of walkers as well as those who require more gentle routes. The limestone peaks give many opportunities for ridge walking with stunning vistas of local peaks and lakes.
You can walk to the top of Mount Vogel (1922m) with its commanding views all the way to Italy and Austria. Helpfully, some of these high walks can be assisted by the use of a cable car.
Experience the Via Ferrata * (Iron way) routes through the mountains built by soldiers in the First World War as supply routes for Italian and Austro-Hungarian armies fighting in the area. Explore mountain paths through Alpine meadows. Take a number of mountain routes over rocky paths; discover deep gorges and spectacular waterfalls where, for most of the year, you may be the only visitor.
There are also a number of routes linking beautiful, unspoilt villages either on the valley floor or on the mountain slopes. They often follow fast-flowing mountain rivers which will make their way to the Danube and the Black sea. There is plenty here to satisfy all grades of walker.
*Special walk organized in advance at a supplement

Guided - Independent Walking
Walk, Slovenia, Mountains, Our guided walking is undertaken by one of a small team of Slovenes who speak excellent English and are enthusiastic about their country and knowledgeable about its wildlife and plants.
Walks may be of easy/medium grade (4-5 hours up to 400m climb) or medium/difficult grade (6-8 hours up to 960m climb). Please stipulate when booking if you do not wish any difficult walks. Details will be sent to you with your departure pack.
You will be collected and returned to your hotel in a minibus. There is a policy of 8 guests maximum per guide. You will have the opportunity to explore walks in a wide area in the Julian Alps and the next door mountain range of Karavanke.
Available for any duration and departure dates between May and October.

Guided - Group Holidays
For dates and details of group departures based at the Hotel Jelovica please click here. You may, of course, choose your own departure airport. We still use local guides. We also send an escort for these holidays in Slovenia.
Self - Guided Walking
We provide you with our self guided walk booklet with walks catering for all abilities. Most are either accessible from your hotel or you use the excellent and reliable public transport. A few walks, we feel, are exceptional enough to warrant a car journey and our local walking company will gladly arrange this for you for a small charge. We also provide local walking maps.
Walk Grading
Guided - Easy, Moderate & Challenging
Self-Guided - Easy, Moderate & Challenging
Slovenia
Included

Not Included

ü

7 night's accommodation

û

Lunches & drinks with meals

ü

7 breakfasts

û

Travel Insurance (required)

ü

7 dinners

ü

Transfers between Ljubljana airport and first/last hotel

ü

Route notes & walking map

ü

Cost of couriering documents overseas

ü

Cost of international bank fees

Optional Extras

Ø

Guided walks include transport to/from hotel at a supplement
All prices are valid for 2022
Prices are per person in USD / US $ and are based on 7 nights MAP in a shared twin/double standard room. Prices do not include flights.
Hotel Tripic***
| | | | | |
| --- | --- | --- | --- | --- |
| Dates | Without Flights | Extra Night | Single Supplement | Guided Walking Supplement |
| 01 Sep – 01 Oct | 769 | 59 | 25 | 360 |
| 02 Oct – 06 Dec | 699 | 50 | 25 | 360 |
| 07 Dec – 28 Dec | 769 | 59 | 25 | 360 |
| 29 Dec – 04 Jan | 825 | 67 | 25 | 360 |
| 05 Jan – 01 Mar | 769 | 59 | 25 | 360 |
| 02 Mar – 14 Apr | 699 | 50 | 25 | 360 |
| 15 Apr – 15 Jul | 769 | 59 | 25 | 360 |
| 16 Jul – 31 Aug | 825 | 67 | 25 | 360 |
Room supplements: None
Hotel Rikli Bled (formerly named Hotel Jelovica ***
Dates

Base price

Single sup

Extra night

20-Oct-21

16-Dec-21

998

58

97

17-Dec-21

23-Dec-22

1093

67

111

24-Dec-22

01-Jan-22

1222

79

131

02-Jan-22

24-Apr-22

1093

67

111

25-Apr-22

24-Jun-22

1093

67

111

25-Jun-22

22-Sep-22

1222

79

131

Supplements

Upgrade to a lake side room (based on 2 sharing) – per night

15

Upgrade to a lake side superior room (based on 2 sharing) low/mid season – per night

29

4 days guided walking

370
Hotel Jezero****
| | | | | |
| --- | --- | --- | --- | --- |
| Dates | Without Flights | Extra Night | Single Supplement | Guided Walking Supplement |
| 24 Aug – 11 Oct | 950 | 110 | 59 | 360 |
| 12 Oct – 19 Dec | 873 | 94 | 36 | 360 |
| 20 Dec – 04 Jan | 1068 | 127 | 77 | 360 |
| 05 Jan – 26 Jan | 873 | 94 | 36 | 360 |
| 27 Jan – 29 Feb | 950 | 110 | 59 | 360 |
| 01 Mar – 25 Apr | 873 | 94 | 36 | 360 |
| 26 Apr – 28 Jun | 950 | 94 | 36 | 360 |
| 29 Jun – 23 Aug | 1068 | 94 | 36 | 360 |
This map is for illustration purposes only and we cannot be held responsible for its accuracy.
It is situated on the edge of the old village centre of Bled, with just a park connecting it from the lake's shore. There are stunning views from the hotel of the medieval castle and the lake with the high mountains in the background. It is 50 metres from the bus station, ideal for self guided walkers.

Breakfast and dinner are a buffet and can be taken in the restaurant or on the terrace. An excellent hotel if you wish to be around the stunning Lake Bled.
COVID-19
Please note that currently a buffet breakfast has been replaced by full a-la-carte breakfast menu. Due to the prescribed minimum distance there will be limited capacity in the restaurant. Reservations may therefore be necessary.
VIEW MORE INFORMATION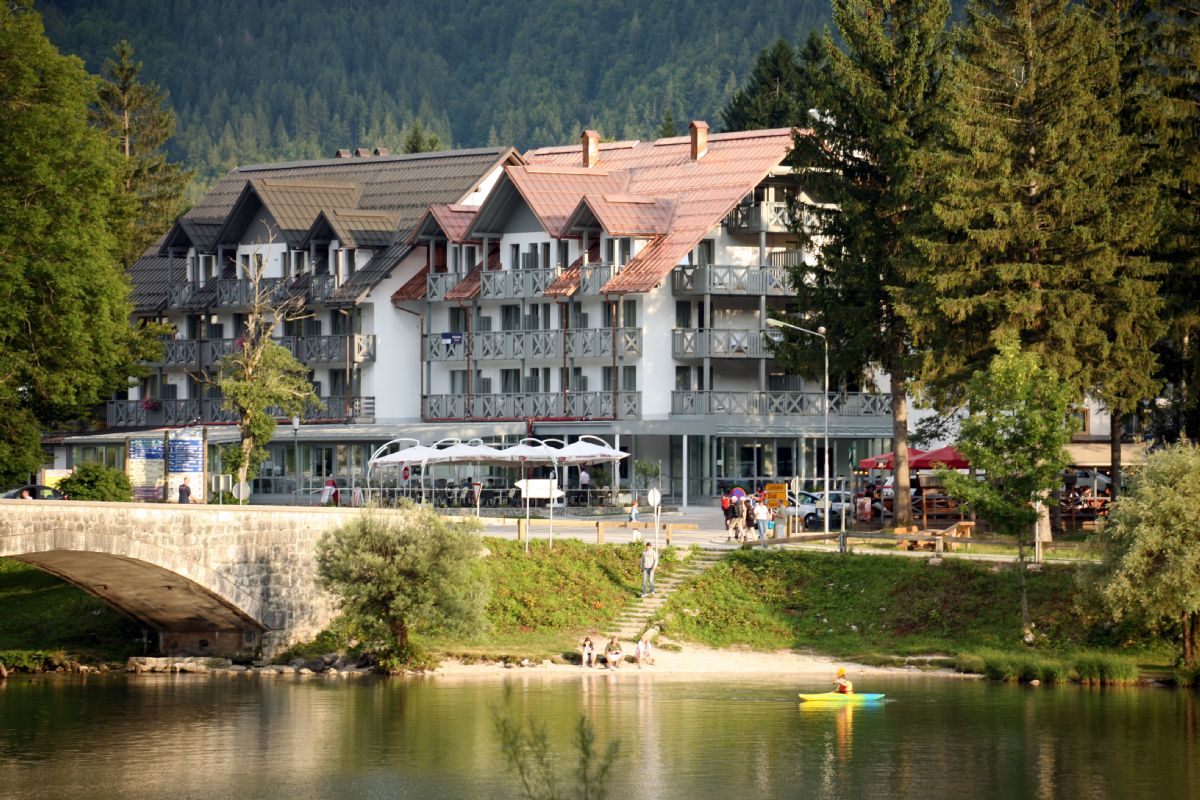 Is situated by the shore of picturesque Lake Bohinj amongst verdant pine forest. The staff of this homely 4 star hotel will always extend a friendly welcome to guests. For self guided walkers it is situated by the bus stop for easy access to walks that you do not take from the hotel steps.

Breakfast is a buffet with a choice of hot and cold dishes. This is a friendly hotel in a beautiful setting with very high standards to match.
VIEW MORE INFORMATION
Availability Information
Walking is available from March to October. May and June sees a profusion of flowers, some of the 3,800 varieties only to be found in Slovenia. The snow disappears here earlier than more Northern Alps but may still linger in May. June to October should be clear of snow everywhere, with July and August being the hottest months, with late afternoon thunderstorms. September and October bring the wonderful autumnal colours and some liken the area to New England at this time of year.
Please note our best to go information is generally referring to the walking which may fall in the early or late season in some places. This may mean that not all tourist facilities will be open at the time you visit.
When to book your walking holiday in Slovenia - Slovenia - Lake Bled and Lake Bohinj
| | | | | | | | | | | | |
| --- | --- | --- | --- | --- | --- | --- | --- | --- | --- | --- | --- |
| Jan | Feb | Mar | Apr | May | Jun | Jul | Aug | Sep | Oct | Nov | Dec |
| N/A | N/A | OK | Good | Good | Best | Best | Good | Best | Good | N/A | N/A |
---
Request A brochure Send Us An Enquiry