---
Holiday Highlights
Explore one of Great Britain's last remaining rural idylls
Discover the fascinating history of this border county
Wander through the unique landscape of the Shropshire Hills
Request A brochure
Send Us An Enquiry
Overview
Walking
Pricing
Map
Accommodation
Info
Sharing a border with Wales, Shropshire is a quiet and tranquil county, considered one of Great Britain's last remaining rural idylls. Yet, this was not always the case and its location has shaped its history across the centuries. Ancient feuds with the Celtic princes to the west is evidenced in the numerous castle ruins, each with their own tales to tell.
It is here, in Shropshire the early 18th century that modern industry originated. In 1779 the world's first cast iron bridge was erected at Ironbridge over the River Severn and become one of the greatest symbols of the birthplace of the industrial revolution. Its significance has been recognised with UNESCO World Heritage status and today is Shropshire's most famous landmark.
From rolling hills to meres and moorland, Shropshire's varied landscape reflects the geologically unique nature of this area. This geodiversity has created a distinctive environment with special habitats which has been recognised through its designation as an Area of Outstanding Natural Beauty (AONB). The Shropshire hills provide the backbone of this landscape, from the rocky Stiperstones to the craggy volcanic Stretton Hills and Wrekin and the quarried landscape of the Clee Hills, each with their own distinguishing characteristics. Found amid Shropshire's natural beauty are its many attractive market towns, including Church Stretton, nicknamed 'Little Switzerland' due to its situation in the heart of the South Shropshire hills and Ludlow, described by John Betjeman as 'Probably the loveliest town in England'. Shropshire's accessibility from many of the UKs major cities make this the perfect rural escape.
Taking in much of the county's best countryside, the Shropshire Way is a long-distance route covering some 200 miles. The route explores the north and south of the county, centring on Shrewsbury. Our trek features the southern route, which follows much of the original Shropshire Way conceived by the Ramblers Association in the 1980s. Discover some of England's best kept secrets as you wander through the unique landscape of the Shropshire Hills. Cross the rocky crags of the Stiperstones to the summit of the Clee Hills and Wenlock Edge before reaching the magnificent Ironbridge Gorge. Our route features the charming towns and villages of Church Stretton, Bishop's Castle, Clun, Ludlow, Much Wenlock and Ironbridge. From ancient hill forts to unique geological features and spectacular views, walking the Shropshire Way allows you to discover far more of this spectacular county.

Extended stay
Why not spend an extra day or two in Ironbridge? Explore the UNESCO Ironbridge gorge following the River Severn through its beautiful surroundings. Visit the numerous museums which will transport you back to the time of the industrial revolution.
Day 1: Arrival
Arrive in the historic market town of Church Stretton. Enjoy your evening meal at one of the many eateries, showcasing some excellent Shropshire produce.
Overnight Church Stretton
Day 2: Bridges to Bishop's Castle
Transfer to the start of today's walk in Bridges. As you meander through country lanes and pastured hills, the distinctive jagged rocks of the Stiperstones dominate your view. On reaching the quartzite ridge, the moorland comes alive with heather and bilberry. Steeped in myth and legend, the craggy peak known as Devil's Chair, is said to be the place where witches convene to drink with the Devil. Descend back into the valley before climbing to Linley Hill. From here, the route gradually descends between an avenue of ancient beech trees, planted to commemorate the British victory in the Napoleonic Wars. The latter part of the descent brings you through a field of ancient earthworks, including a motte and bailey castle built to repel Welsh raids in the 12th century. Your day ends in the historic market town of Bishops Castle. There will be an organised transfer to your accommodation.
Ascent: 535m Descent: 531m Distance: 12 miles
Overnight Church Stretton
Day 3: Bishop's Castle to Clun
Transfer back to the start of today's walk in Bishop's Castle. After leaving the town, the Shropshire Way takes you through pastures to the delightful Wood Batch valley. Ascend to Colebatch Hill, which affords extensive views of the rolling Shropshire hills, and then down into the Unk valley before joining the Offa's Dyke long distance trail. After climbing the hill of Hergan and the Cefns ridge, drop into the Unk valley again to reach Clun, with its ruined castle and lovely packhorse bridge.
Ascent: 481m Descent: 477m Distance: 11 miles
Overnight Clun
Day 4: Craven Arms to Ludlow
Transfer to Craven Arms to join the way and set off down the valley to Stokesay Castle. Built in the late 13thcentury, this unique fortified manor house is well worth a visit. After a short ascent, the landscape opens up with stunning views across the Clee Hills. Continue into the gorges of Aldon and Brandhill Gutter, passing Stokesay Court. Perhaps best known for its role in the 2007 Oscar winning film 'Atonement'. The route now follows country lanes before joining a path alongside the River Teme. Passing the weir and old mill at Bromfield, the route now follows the Teme valley with striking views of Ludlow castle ahead. End todays walk crossing Dinham Bridge and entering the town through the castle walls. Renowned for its food, you are free to sample some great local produce at one the many wonderful restaurants in town.
Ascent: 194m Descent: 206m Distance: 11 miles
Overnight Ludlow
Day 5: Ludlow to Wheathill
Today's walk takes you to some of the highest hills in Shropshire. Leaving Ludlow, you once again follow the riverside trail, passing the well-preserved Iron Age hillfort Caynham Camp. The path begins to climb, initially through pastures before joining up with an old rail track, a remnant of old quarry workings. Eventually this brings you to the summit of Titterstone Clee, topped with rocks known as the Giant's Chair. Enjoy splendid views of the surrounding agricultural landscapes as you descend towards Wheathill. There will be an organised transfer to your accommodation.
Ascent: 562m Descent: 347m Distance: 11 miles
Overnight Ludlow
Day 6: Wheathill to Wilderhope Manor
After breakfast, transfer back to the start of today's walk at Wheathill. Today, you take on Shropshire's highest hill, Brown Clee. Consisting of two peaks, Clee Burf (510m) and Abdon Burf (540m), both of which were sites of Iron Age forts. The route ascends to Clee Burf continuing to the Col at Five Springs before ascending further to Abdon Burf. Enjoy views westwards across the Shropshire Hills including Wenlock Edge, Long Mynd, Stiperstones and beyond into Wales. As you descend Brown Clee towards the Corve Dale valley you will discover a contrasting landscape of verdant pastures. Wind your way to the 16th century Elizabethan Wilderhope Manor. There will be an organised transfer to your accommodation.
Ascent: 349m Descent: 654m Distance: 12 miles
Overnight Ironbridge
Day 7: Wilderhope Manor to Ironbridge
After breakfast, transfer back to the start of today's walk at Wilderhope Manor. Today's walk follows Wenlock Edge; a limestone escarpment formed over 400 million years ago, featuring a mix of flower rich grasslands and ancient woodland. At Major's Leap, you will discover fine views across the Stretton Hills. The market town of Much Wenlock is well worth exploring, with its dramatic priory ruins and a museum telling the story of its links with the first modern Olympic Games. Meander through Benthall Edge wood before descending into Ironbridge Gorge, following the River Severn. Enter the town across the famous iron bridge.
Ascent: 205m Descent: 424m Distance: 12 ½ miles
Overnight Ironbridge
Day 8: Departure
Walk Grading
Moderate with some long days. Total for standard week: - Ascent 2291m, Descent 2639m, 69.5 miles.
Self-Guided
Our Shropshire Way trek is offered on a self-guided basis. We provide full walking notes and all the relevant maps and backup support you may need.
Baggage Transfer
Throughout this trek your luggage (1 bag per person) is transported from hotel to hotel so it will not be necessary to carry more than a light pack containing items you will need during the day.
Shropshire Way - Self Guided Trek
Included

Not Included

ü

7 night's accommodation

û

Lunches & drinks with meals

ü

7 breakfasts

û

Travel Insurance (required)

ü

3 Dinners

ü

Transfer from last hotel to Telford train station

ü

People Transfers as indicated in the itinerary

ü

Baggage transfers between hotels (1 bag per person @20kg)

ü

Route notes & walking map

ü

Cost of couriering documents overseas

ü

Cost of international bank fees
Optional Extras
ØSupplement per person for return transfer from Birmingham Airport to first/last trek hotels $80

ØSupplement per person for return transfer from Manchester Airport to first/last trek hotels $121
ØSupplement per person for an extra night in Ironbridge on a MAP basis $96


All prices valid for 2021/22

Prices are per person in USD / US $ (Prices do not include flights)
| | | | | |
| --- | --- | --- | --- | --- |
| Dates | Without Flights | Extra Nights | Single Supplement | Solo Supplement |
| 01 March – 31 October | 887 | POA | 41 | 63 |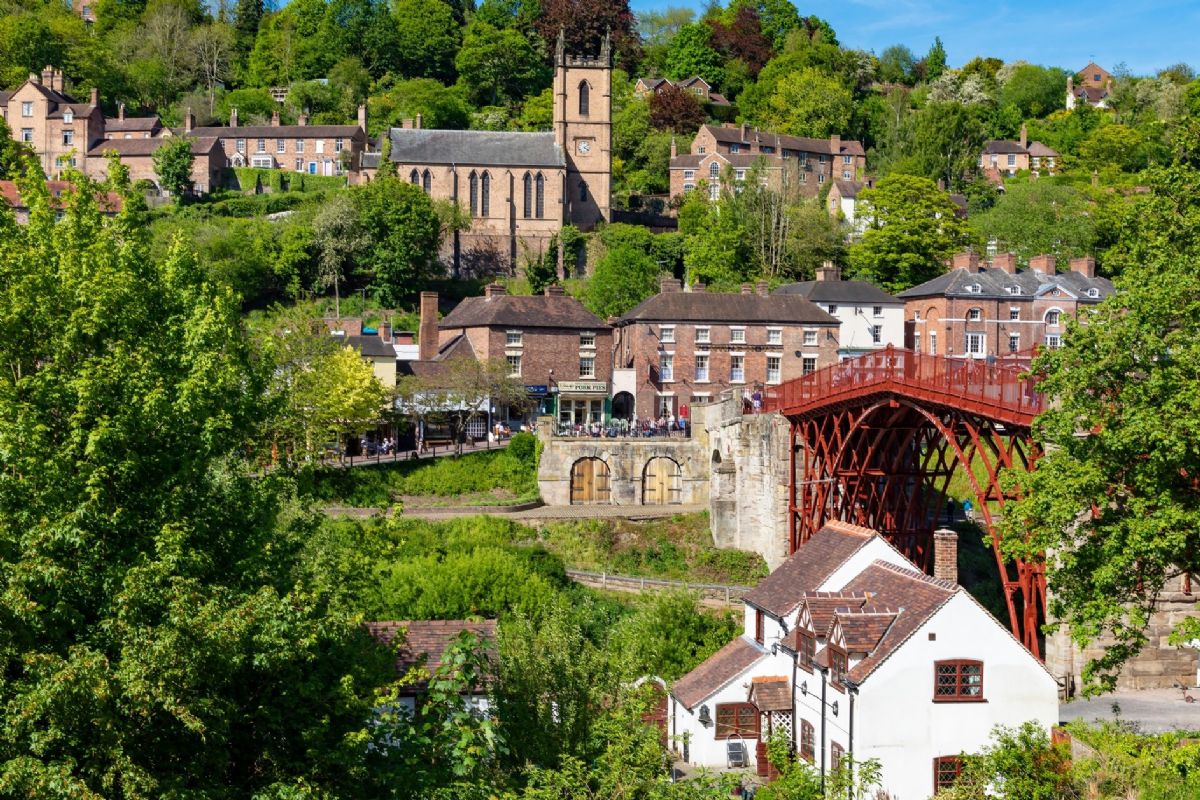 On this trek, the accommodations are comfortable and of high quality, all rooms have a private bathroom.
We have personally stayed in all of our accommodations. They have all been selected for their great locations, friendly atmosphere and traditional hospitality, as well as the warm welcome they offer to walkers. Below is a summary of our usual accommodations*.
VIEW MORE INFORMATION
Availability Information
We recommend travelling in April, May, June, September and October. Spring is best for vibrant colours of green and an abundance of flowers, while Autumn offers the vivid red and orange colours from the bracken and bilberry. Summer is also good with warmer weather and longer days. The main towns and villages can be very busy during this time, meaning availability at accommodation is limited. Make sure you book early if you wish to travel in the summer months.
When to book your walking holiday in England - England - The Shropshire Way - Secret Hills
| | | | | | | | | | | | |
| --- | --- | --- | --- | --- | --- | --- | --- | --- | --- | --- | --- |
| Jan | Feb | Mar | Apr | May | Jun | Jul | Aug | Sep | Oct | Nov | Dec |
| OK | OK | Good | Best | Best | Best | Good | Good | Best | Best | OK | OK |
---
Request A brochure Send Us An Enquiry