---
Holiday Highlights
Witness the stunning Boka waterfall, the largest in Slovenia with a 144m drop
Follow the vibrant Soča Valley along quiet forest trails and wildflower meadows
Join the 'Walk of Peace' linking former combat areas of WW1
Request A brochure
Send Us An Enquiry
Overview
Walking
Pricing
Map
Accommodation
Info
Situated close to the mighty Triglav National Park and its imposing Julian Alps, the beauty of the north-west of Slovenia will leave you mesmerised. Walking along the Slovenian section of one of the newest long-distance paths, which starts in Austria and finishes on the Adriatic coast in Italy, the route combines walking in exhilarating alpine areas and peaceful valleys. Enjoy strolling alongside rivers full of meltwater of a stunning aquamarine blue or rising up valley sides into spectacular mountains of predominately limestone, where jagged peaks create stunning vistas wherever you look. Winding your way southwards, you will pass many fascinating natural and historic sites. This area was the site of major battles in World War I and there are many relics and museums that tell the story of warfare along the way. The countryside here is unspoilt and famous for its beautiful wild flowers. Slovenian cuisine is also a special mix of nearby influences – Italian and Austrian, as well as Croatian and Hungarian.
Although deep in the mountains, you are only 100km from the Adriatic Sea so the climate is milder than you might expect. You start at the popular resort of Kransjka Gora, busy with skiers in the winter and walkers when the snow melts away. After crossing the Julian Alps at the Vršič pass (only passable during May to mid-October), you join your beautiful companion, who will be with you for most of the remainder of your journey – the enchanting River Soča.
From here, meander southwards past many intriguing natural and historic sites. There are many waterfalls to enjoy on the route, including the largest in Slovenia. There are gorges, too, formed by the rivers that you pass and even a Heathen Maiden in the rocks! There are also reminders of the area's World War I history. This was a main theatre of fighting between Italy and the Austro-Hungarians and you will pass memorable and moving commemorative chapels built by both of these warring parties. As well as walking some sections of the commemorative "Walk of Peace", you will have time to visit a museum built in remembrance of these battles.
Begin by crossing the stunning Vršič pass in the Triglav National Park. It is only passable between May and mid-October, but at other times of the year you can start your trek a day later in Trenta. Our standard trek is 6 nights / 7 days with the option to add a recommended extra day along the way – there's plenty to do and see!
Most days you will enjoy sections of the Alpe-Adria Trail, a long-distance trail that starts in Austria and heads south to Italy's Adriatic coast. You will encounter a mixture of old donkey paths, wartime tracks, quiet forest trails and vibrant Alpine meadows. From the Soča valley and the source of the river, you progress southwards through ever-changing, breathtaking scenery.

Day 1: Make your way to the first hotel. See How to Get There for details.
Day 2: Leaving Kranjska Gora, you soon pass the delightful Jasna lakes before continuing along a forest trail. You will walk through Alpine meadows and forests, along a stream and past a chapel built by Russian prisoners of war. Continuing along an old donkey path, you will come to the Vršič pass. Here there is a viewpoint where you can see the Heathen Maiden, a lady's face that appears in the rock. You start your descent into the Trenta valley along a hiking trail to the source of the river Soča. Follow the river to Trenta, where you may stay or be transferred to your overnight accommodation in Bovec.
Ascent: 900m. Descent: 1110m. Distance: 13 ¾ miles. Time: 7 ½ hours.
Day 3: If not staying in Trenta, you will be transferred back. You start by following the Soča Trail down the valley. Enjoy forests, lush meadows and pastures before ascending to a waterfall. Pass farms and small settlements to reach the Soča gorge, which you walk alongside. In some places the gorge is only 2 metres wide. Following the river, which you cross several times on pedestrian suspension bridges you finally leave the river to ascend to Bovec and your hotel.
Ascent: 220m. Descent: 400m. Distance: 13 miles. Time: 6 ½ hours.
Day 4: Today continue along the valley of the River Soča. After exploring the old part of Bovec you ascend to Plužna. After passing through the village, you reach the beautiful Virje waterfall and a small lake. Head back down to the river, at which point you will see the stunning Boka waterfall, the largest in Slovenia with a 144m drop. Continuing along the river, you pass the longest suspension bridge in the country (63m long). The river here is popular with rafters and kayakers because of its fast-flowing water. From the valley, a short transfer will take you to your accommodation in Kobarid, or if you prefer you can walk all the way.
Ascent: 250m. Descent: 380m. Distance: 10 miles. Time: 4 hours.
Day 5: Today you have a choice. Either use the day to explore Kobarid and its award-winning World War I museum (during World War I, the area was the front line in the war between Italy and Austro-Hungary), or enjoy a circular walk to nearby Drežnica to enjoy more of this stunning valley. You can either walk all the way or take a taxi (payable locally) to and/or from Drežnica to shorten the day. Overnight Kobarid.
Ascent: 420m. Descent: 420m. Distance: 9 miles. Time: 3 ¾ hours.
Day 6: This day's walking is steeped in history as you explore former military paths and the Alpine meadows of the Triglav National Park, combining the history of World War I with the traditional way of life of the local people. After a short transfer to Koseč, you join the "Walk of Peace". This links former combat areas and remnants of World War I. The walk ascends to the Italian military chapel of Bes na Planici, then levels off as you pass through forests and Alpine meadows before dropping down to the pretty village of Krn. Descend through forests, to rejoin the River Soča, which leads you to Tolmin for the night.
Ascent: 790m. Descent: 1080m. Distance: 13 ½ miles. Time: 6 hours.
Day 7: A circular walk today. Heading north up a minor road (taking a taxi if you wish to shorten the walk), you climb slowly to Javorca. Here, overlooking the Tolminka valley and Polog mountain pasture, stands the only memorial church in the area to the Austro-Hungarian army of the Isonzo front. The church was built by the soldiers in memory of their fallen comrades. From the well-preserved church, you ascend steeply to the saddle between the Tolminka and Soča valleys with stunning views of both, before meandering downwards along a track mainly through forested areas. Finish the trek by visiting the Tolmin Gorges before a short walk back to Tolmin.
Ascent: 1050m. Descent: 1050m. Distance: 15 miles. Time: 6 ¾ hours.
Alternatively take an easier day, visit the Tolmin Museum and/or enjoy exploring the Tolmin Gorges in the Triglav National Park. Some of the paths are very exposed but are well protected with handrails.
Ascent: 150m. Descent: 150m. Distance: 4 miles. Time: 2 hours or as long as you would like to expore the gorges!
Day 8: Transfer from Tolmin to either your airport or to Udine for your onward journey home.
For the 7-day itinerary:
Day 1: Make your way to Trenta. See How to Get There for details.
Day 2 to Day 7: As Day 3 to Day 8 above. Maybe stay an extra night along the way or spend a night in Venice to extend your trip.


Baggage Transfer
Your baggage is transported for you from hotel to hotel so you can travel with day rucksacks only.

Walk Grading
Self-guided – Moderate to Challenging, with some short vertiginous sections. Total for standard week ignoring variations:- Ascent 3880m, Descent 4760m, 80 miles.
Soča Valley Trek Self Guided Holiday
Included

Not Included

ü

6 or7 night's accommodation

û

Lunches & drinks with meals

ü

6 or 7 breakfasts

û

Bus from Trieste airport to Udine bus station (€4.75 one way)

ü

6 or 7 dinners

û

Flights to Venice - buses between the airport and Venice train station

ü

Flights to Trieste - transfers from Udine bus station and the first trek hotel and on return from the last trek hotel to Trieste airport

û

Travel Insurance (required)

ü

Baggage transfers between hotels (1 bag per person @20kg)

ü

Route notes & walking map

ü

Cost of couriering documents overseas

ü

Cost of international bank fees

Optional Extras

Ø

If flying into Ljubljana – return transfers between the airport and first/last trek hotels (see below prices)

Ø

If flying into Venice* - trains between Venice and Udine and return transfers between Udine and the first/last trek hotels (see below prices)
All prices valid for 2022
Prices are per person in USD / US $ and are based on 7 or 6 nights MAP in a shared twin/double standard room. Prices do not include fights.


Hotel to Hotel Trek
6 Night Trek
| | | | | |
| --- | --- | --- | --- | --- |
| Airport | Dates | Without Flights | Extra Night | Single Supplement |
| Flights to Trieste | March - October | 1356 | POA | 34 |
| Flights to Venice | March - October | 1369 | POA | 34 |
| Flights to Ljubljana | March - October | 1356 | POA | 34 |
7 Night Trek
| | | | | |
| --- | --- | --- | --- | --- |
| Airport | Dates | Without Flights | Extra Night | Single Supplement |
| Flights to Trieste | May – October | 1505 | POA | 36 |
| Flights to Venice | May – October | 1239 | POA | 36 |
| Flights to Ljubljana | May – October | 1505 | POA | 36 |
POA – Prices on application
This map is for illustration purposes only and we cannot be held responsible for its accuracy. ,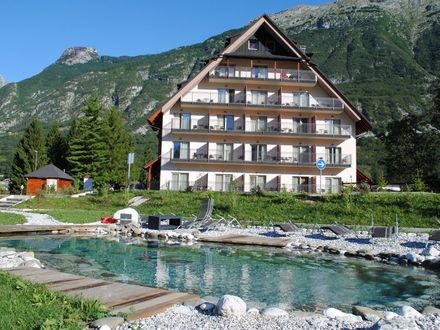 We have personally stayed in or visited all of our accommodations. They have all been selected for their great locations, friendly atmosphere and traditional hospitality, as well as the warm welcome they offer to walkers. Below is a summary of our usual accommodations*.
On this trek, the accommodations are mostly smll and family-run, all rooms have a private bathroom.
VIEW MORE INFORMATION
Availability Information
The full trek is available between May and mid-October, due to snow over the Vršič pass. There is a possibility that snow may also affect the first 2 weeks in May.
The alternative 7-day itinerary is available from March to October.
The best times of year to go are June to mid-July and September. July and August can be hot and the paths busier.
Please note our best to go information is generally referring to the walking which may fall in the early or late season in some places. This may mean that not all tourist facilities will be open at the time you visit.
When to book your walking holiday in Slovenia - Slovenia - Soča Valley - The Way of Peace
| | | | | | | | | | | | |
| --- | --- | --- | --- | --- | --- | --- | --- | --- | --- | --- | --- |
| Jan | Feb | Mar | Apr | May | Jun | Jul | Aug | Sep | Oct | Nov | Dec |
| N/A | N/A | OK | Good | Good | Best | Good | Good | Best | Good | N/A | N/A |
---
Request A brochure Send Us An Enquiry