---
Holiday Highlights
Discover the historic towns of Assisi (World Heritage Site) and Trevi sat on mountain flanks
Rolling hills, gushing waterfalls, high mountains and fascinating hill-top towns
Follow in the footsteps of Saint Francis as he journeyed to his mountain retreat
Request A brochure
Send Us An Enquiry
Overview
Walking
Pricing
Map
Accommodation
Info
Walking Holiday in Italy - Umbria
Delightful Umbria, with its rolling hills, waterfalls, high mountains and fascinating hill-top towns, has been called "il cuor verde d'Italia" (the green heart of Italy). It was often viewed as the second best province to visit after Tuscany, but no longer... Successive visitors have discovered that the historic towns of Assisi (a World Heritage Site associated with Saint Francis), Trevi, Norcia and Spoleto, on the flanks of the Apennine Mountains, have just as much to offer as the busier towns of Tuscany.
Starting in Assisi, the trek leads you on much of the historic Via Francigena di San Francesco, in the footsteps of Saint Francis. Enjoy oak woodlands, fields of crops, orchards and olive groves. The ascents and descents are generally gentle as you explore secluded valleys and low passes between the hills. The extended route is more remote and has some tougher days, but is well rewarded by spectacular views.

Day 1: Arrive in Rome and get the train to your hotel in Assisi; or if you arrive in Perugia airport we will arrange a transfer to your hotel in Assisi.
Day 2: Assisi to Spello. This walk, skirting Monte Subasio and taking you high above the Umbrian Plain, is reputed to have been used by Saint Francis on his way to his mountain retreat, Eremo delle Carceri. The tranquil oak woodland provides pleasing shade. Overnight at Spello.

Ascent 650m, Descent 720m, Distance 9 ½ miles, Time 5 hours.
Day 3: Spello to Le Vigne. Explore the pink-stoned medieval town of Spello before passing by many pretty rural villages. End the day by ascending to the superbly sited Agriturismo in Colle San Lorenzo, with its unforgettable views. Overnight here with dinner included.

Ascent 360m, Descent 250m, Distance 6 ¼ miles, Time 3 hours.
Day 4: Circular walk. Follow an intriguing route to an impossibly-sited hermitage church in the old village of Palé, which was part-destroyed by an earthquake in 1997, and also enjoy a beautiful medieval monastery. Alternatively, relish a day of relaxation by the pool. Overnight atColle San Lorenzo with dinner included.

Ascent 815m, Descent 790m, Distance 9 ½ miles, Time 5 hours.
Day 5: Upello to Trevi. A short transfer takes you to the small square in Uppello where your day begins. Much of this undulating, rural walk is in the peaceful, green valley of the Tregenno. Overnight at Trevi.

Ascent 680m, Descent 770m, Distance 10 miles, Time 5 hours.
Day 6: Trevi to Poreta (near Bazzano). Continue on the Via Francigena while revelling in the stunning views of Spoleto Valley. Overnight Poreta.

Ascent 550m, Descent 480m, Distance 9 miles, Time 4 ½ hours.
Day 7: Poreta to Spoleto. Soak up some more peaceful and rural landscapes, including a stroll along a former railway track with (short) tunnels and viaducts, then a striking and memorable entry into Spoleto to overnight here.
Ascent 530m, Descent 560m, Distance 9 ½ miles, Time 5 hours.
Day 8: Either make your return journey home, transferring back to Perugia Airport or by train from Spoleto to Rome, or you can continue on the extended route to Norcia.
EXTENSION TO NORCIA (please note this extension to Norcia is currently unavailable due to damaging earthquakes in November 2016)
Day 1: Spoleto to Scheggino. Start over the ancient aqueduct, Ponte delle Torri, with breathtaking views back to Spoleto, then climb to the pass of Forcella Castelmonte, followed by a descent to the pretty village of Scheggino. Overnight at Scheggino with dinner included.
Ascent 840m, Descent 900m, Distance 11 ¼ miles, Time 5 ½ hours.
Day 2: Gavelli to Poggiodomo. After a brief transfer, walk over Monte Coscerno, the 'windy mountain', with panoramic views over the Apennine landscape, followed by a descent through flowery meadows to a sleepy hamlet. Overnight at Poggiodomo with dinner included.
Ascent 570m, Descent 725m, Distance 9 ¾ miles, Time 4 ½ hours.
Day 3: Visso to Norcia.The route starts from Poggiodomo and offers fantastic views of the Sibillini and Della Laga mountains. You then descend to Cascia, which is deeply tied to Saint Rita who was born there in 1381. There is a sanctuary dedicated to her which has pilgrims arriving from around the world. From Cascia take a bus (not included) onto Norcia. Overnight in Norcia with dinner included.
Ascent 940m, descent 940m, 13 miles, 6 hours.
Day 4: Castellucio to Norcia. This last day is unforgettable. Begin in the high village of Castellucio, with stunning views of the plain of Piano Grande. Finally, from on high, enjoy pristine Apennine countryside before descending to Norcia to overnight, with dinner included.
Ascent 400m, Descent 1200m, Distance 10 ½ miles, Time 5 ½ hours.
Day 5: Take the bus back from Norcia to Spoleto from where you can take the train back to Rome or we will transfer you back to Perugia Airport.
towns of Tuscany.
Luggage Transfer

Your luggage is transported for you from hotel to hotel so you can travel with your day rucksack only. Some days you are taken to the start of a walk. These transfers are included in the price.
Walk Grading

Self-guided – Moderate, with the extension being Challengingdue to its ascents and descents. Total for standard week ignoring variations:- Ascent 3585m, Descent 3570m, 60 miles.
Umbria – Assisi to Spoleto

Included

Not Included

ü

7 night's accommodation

û

Lunches & drinks with meals

ü

7 breakfasts

û

5 dinners

ü

2 dinners

û

Travel Insurance (required)

ü

Return train/bus tickets between Rome airport and first/last hotels

û

City Tax

ü

Baggage transfers between hotels (1 bag per person @20kg)

ü

Route notes & walking map

ü

Cost of couriering documents overseas

ü

Cost of international bank fees
All prices valid for 2022 - Prices are per person in USD / US $

Dates

Base Price

Single supplement*

01-Apr-22

02-May-22

1097

224

03-May-22

14-Jun-22

1084

218

15-Jun-22

03-Aug-22

1097

224

04-Aug-22

31-Aug-22

1097

224

01-Sep-22

01-Oct-22

1084

218

02-Oct-22

31-Oct-22

1070

213
* If at least two travelling. Please enquire to discuss availability and transfer supplements for one person travelling alone.
This map is for illustration purposes only and we cannot be held responsible for its accuracy.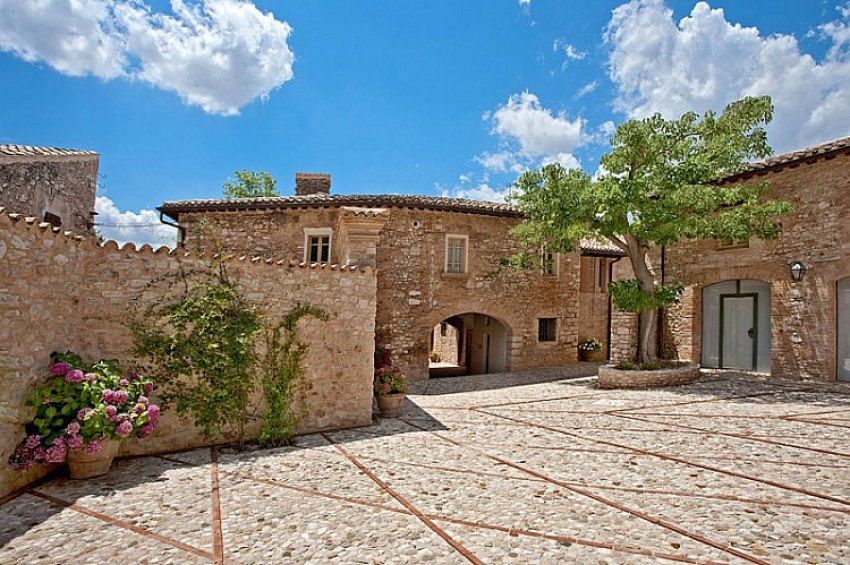 Overnight stays will be in small family run hotels, mostly 3*. Two nights on the first trek and 1 night on the extension are spent in an Agriturismo in the hills, both with their own swimming pools available during summertime. In Norcia you can upgrade to a 4* for two nights. In all the accommodation you have a room with private bathroom.


VIEW MORE INFORMATION
Availability Information
This walk is available from April to July and then September and October. In the springtime you will get the colours of farmlands and pastures. April can be wet but this diminishes as the spring turns into summer.

Please note our best to go information is generally referring to the walking which may fall in the early or late season in some places. This may mean that not all tourist facilities will be open at the time you visit.
When to book your walking holiday in Italy - Italy - Umbria - Assisi to Spoleto
| | | | | | | | | | | | |
| --- | --- | --- | --- | --- | --- | --- | --- | --- | --- | --- | --- |
| Jan | Feb | Mar | Apr | May | Jun | Jul | Aug | Sep | Oct | Nov | Dec |
| N/A | N/A | N/A | OK | Best | Best | Good | N/A | Best | Good | N/A | N/A |
---
Request A brochure Send Us An Enquiry