---
Holiday Highlights
Walk around the least known, and most westerly, of the Canary Islands
Visit significant cultural sites such as the Sacred Tree, the abandoned village and the amazing twisted Junipers
Mixture of volcanic scenery, pastures and beautiful Canarian pine woodland
Request A Quotation
Send Us An Enquiry
Overview
Walking
Pricing
Map
Accommodation
Info
Walking Holiday Spain - Canary Islands - El Hierro
El Hierro is the least known, and most westerly, of the Canary Islands. In fact it was the most westerly point of the 'old world'. Hitherto it has escaped mass tourism, and is free of giant hotels and apartment complexes. The population is only 10,000, giving a very different feel to the other Canarian islands.
The Herrenõs are fiercely proud of their island and although they are generally against mass tourism they are very welcoming towards visitors who come to appreciate the environment, such as walkers, naturalists and divers.
Like its neighbours, El Hierro was formed by volcanic activity along an offshoot of the mid-Atlantic ridge. There has not been an eruption since the 18th century but the cones of ash and old lava flows are a prominent feature of the island. The small central plateau at over 1000m is a mixture of volcanic scenery, pastures (cattle, sheep and goats provide fine cheeses), and the beautiful Canarian pine woodlands. To the north the lowland of El Golfo resembles a huge bite taken out of the island, and the impressive bordering escarpment, reaching 1500m in altitude, features in our walks. On the lower land of El Golfo vines, bananas and pineapples are grown.
The islanders have preserved a number of local traditions and some of their sites are included in our routes. Overall, there is a surprising rich variety for such a small area!
The population is principally Spanish, and the relative isolation means that other languages are rarely used. However, most hotel and restaurant staff have a little knowledge of English.
El Hierro has an excellent network of well-waymarked paths, all shown on the map of the island we provide. We also provide detailed walking notes for a selection of easy to moderate walks, and even the highest point, Malpaso at 1501m, is an easy stroll. Some more challenging routes feature long and steep ascents and descents, but as these are on ancient, well-conceived, paths there are no exposed vertiginous sections.
All walks offer superb views and include a variety of landscapes on this unspoiled island, as well as the significant cultural sites. Among these are the Sacred Tree – El Arbol Santo, the abandoned village of La Albarrada, the Ermita de la Virgen, and the amazing twisted Junipers at the western extremity – the farthest western point of the 'old world'. Some of the walks, such as El Pinar – La Restinga – Tacoron, provide sea bathing opportunities.
Guided - Independent Walking
On our guided independent holidays you will be collected from your hotel and transported to the beginning of the walk and collected at the end. Distances vary with walking time between 3 – 7 hours.
We arrange 4 walks per week which range from easy to challenging – they will be tailored to your needs. The walks are selected to enable you to enjoy the island's superb variety of landscape and spectacular views. You can take additional walks on your 'days off'.
You will have an experienced guide who is a local resident, knows the paths well, and will be very informative regarding the landscapes, plants and local culture. These holidays are available throughout the year.
Self-Guided
Available year round using our exclusive Walk Booklet containing 11 of the best walks El Hierro has to offer. We give full directional notes, average walking times and distances, the extent of ascents and descents and points of interest. The walks range from short and easy to challenging, but all are on good, waymarked paths.
We also provide public transport details for each walk. We can arrange for a local driver to take you to and from the walks if you prefer; payable locally.
As the bus service to the Parador hotel is inconvenient, a hire car is essential for the guests staying here. Even so, some linear walks require a bus or taxi to return to the car.

Walk Grading
Guided- Easy, Moderate & Challenging
Self Guided- Easy, Moderate & Challenging
Multi-Centre
Why not combine a trip to El Hierro with some time in Tenerife or La Gomera, both offering different walks to enjoy? We are happy to arrange a multi-centre holiday of any duration. Please send a request with your preferred option.
This map is for illustration purposes only and we cannot be held responsible for its accuracy.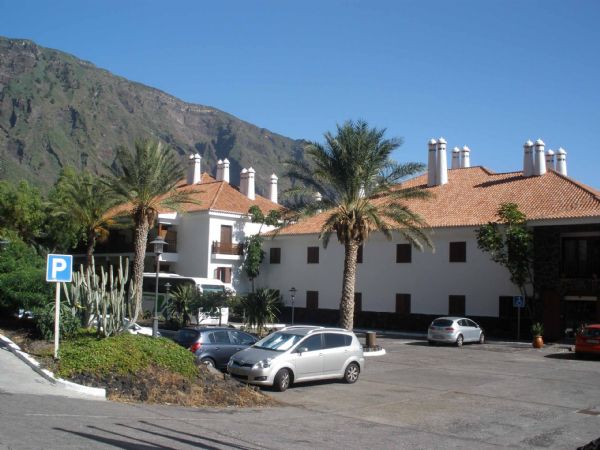 Located in a superb heavenly setting where the sea and the volcanic mountains meet, this modern Canarian Parador is ideal for rest and tranquility. Its elegant colonial interior and fascinating gardens are cheerful and friendly. There is a lovely outdoor swimming pool for guests to use. Dinner and breakfast are served in the elegant restaurant and are highlights of the day.
All rooms feature free Wi-Fi, television, air conditioning, safe and private bathroom with WC, shower/bath and hairdryer.
VIEW MORE INFORMATION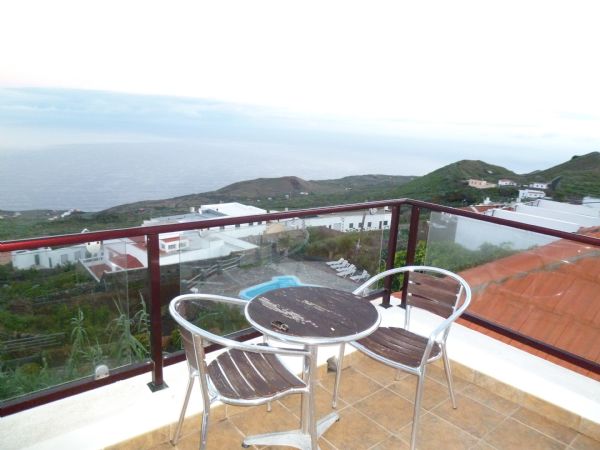 Conveniently situated in the main street of the village of Mocanal, Villa El Moconal is based in three adjoining buildings and offers a warm welcome to all. Most of the rooms - some with a spacious balcony - have a view to the north coast and the ocean. Breakfast is taken just across the road in the Mesón del Norte, a simple, genuine Spanish bar-restaurant offering good wholesome food and welcoming service.
All rooms feature free Wi-Fi, television, safe, air conditioning and private bathroom with WC, shower/bath and hairdryer.
VIEW MORE INFORMATION
Availability Information
El Hierro is blessed with good walking weather all year round temperatures averaging 20°C at lower altitude. The island's sub tropical climate is however influenced by the trade winds which particularly in winter may bring cloud and rain to the north.

Please note our best to go information is generally referring to the walking which may fall in the early or late season in some places. This may mean that not all tourist facilities will be open at the time you visit.
When to book your walking holiday in Spain - Canary Islands - Spain - Canary Islands - El Hierro - The Smallest Island
| | | | | | | | | | | | |
| --- | --- | --- | --- | --- | --- | --- | --- | --- | --- | --- | --- |
| Jan | Feb | Mar | Apr | May | Jun | Jul | Aug | Sep | Oct | Nov | Dec |
| Best | Best | Best | Best | Best | Good | OK | OK | N/A | Best | Best | Best |
---
Request A Quotation Send Us An Enquiry