---
Holiday Highlights
Visit historic old towns with many intriguing castles, including Dracula's Castle itself
Walk along the impressive Zarnesti gorge, carved through the solid limestone
Rise through the Carpathian lower reaches, a green land full of mysterious woodlands
Request A Quotation
Send Us An Enquiry
Overview
Walking
Pricing
Map
Accommodation
Info
"Every known superstition in the world is gathered into the Carpathians, as if it were the centre of some sort of imaginative whirlpool." So says the narrator of Dracula, the late 19th century English novel of Victorian superstitions that used this area of Romania to represent something on the edge of civilisation. A trip to this part of the world is to enter a maelstrom of natural sensation. There is everywhere a bewildering mass of flora and fauna. Profusions of trees and flowers and grasses are barely touched by agricultural exploitation. Be alert, however, for roe deer and chamois and hedgehogs and rodents, plus the sight and sound of the area's 190 bird species. Transylvania is a region full of beauty of every kind, sometimes little towns or castles on the top of steep hills. This trek rises daily through Carpathian lower reaches, a green land full of forests and woods, with here steep hills crowned with clumps of trees, and there villages newly built in a riot of colour and style. Smile and say Boo Naa (Hello) and you'll meet open-faced strangers who say all the country people show "hospitality, flexibility, honesty". The message is that tourists are welcome.
The complex Carpathian foothills have a limited number of pathways between towns and villages and it takes confident walkers to traverse a limestone landscape folded by the geology of mountain drainage. The paths are a mixture of tracks, lanes and quiet country roads through villages. However the route does cross meadows and some forests which demand concentration. There are numerous tightly-defined valley views framed by trees with 2,000 metre peaks and ridges beyond. The walking is sometimes in forest where pathways curl up and down serpentine routes. There are no vertiginous sections. The total distance is 102.5km for the week.

Day 1:
After your flight to Bucharest (either airport) or Sibiu you will be transferred to your first hotel in Brasov. Spend the rest of the day exploring this rich city, with its own castle, famous Black Church, historic old town and viewpoints over the city.
Overnight Brasov.
Day 2: Leaving the streets of Brasov behind, you enter the forest and ascend up to a more open area of pastures. This provides a nice contrast to the first section of the walk. Easy walking takes you to the high point for the day. where you re-enter the forest for a winding descent to Rasnov. The route is generally well way-marked. There is a chance to visit Rasnov castle when you arrive. Overnight Rasnov.

Ascent: 580m. Descent: 580m. Distance: 10 ½ miles. Time: 4 ¾ hours.

Day 3: Today makes a nice contrast with yesterday's route as there is no forest walking. The walk is in three distinct parts. The first is on completely flat land, thereafter you gradually climb up into hilly terrain getting increasingly close to the mighty Carpathian Mountains. Finally, you reach villages and more houses before descending to the small town of Bran, with its magnificent castle. Overnight Bran.

Ascent: 400m. Descent: 270m. Distance: 9 ½ miles. Time: 4 hours.
Day 4: Leaving Bran, you walk towards the mountains until well within the forest. From there, you have a climb through forest until you are rewarded with alpine views down to your destination and a magnificent panorama of mountains. Thereafter you descend steeply through pastures straight down to Moieciu de Sus. Overnight Moieciu de Sus.
Ascent: 800m. Descent: 600m. Distance: 11 ¼ miles. Time: 5 hours.
Day 5: Another varied day - and the longest walk of the trek. Apart from fairly short sections in the forest, much of the time you will be walking past farms and through villages, but with the impressive Carpathians often in view. Overnight in an isolated spot near Magura.

Ascent: 770m. Descent: 700m. Distance 13 ¼ miles. Time: 5 ¾ hours.
Day 6: This route provides ample opportunity to see rural life and farming practices whilst enjoying magnificent views of the mountains. You pass caves in limestone cliffs which are home to several bat species. It is essential to take a torch if you wish to go in. Overnight Magura.

Ascent: 450m. Descent: 450m. Distance: 6 ¾ miles. Time: 3 hours.
Day 7: This is a spectacular day to complete the trek, walking in the Piatra Craiului National Park. After a steep descent from Magura, you walk along the impressive Zarnesti gorge, carved through the limestone. A lengthy ascent then follows up to the trek's high point with superb views. A descent through forest and pasture land takes you down to the valley and an easy walk to your accommodation. Overnight Zarnesti. If you have an early flight we can transfer you to a hotel closer to the airport.

Ascent: 600m. Descent: 850m. Distance: 8 ¾ miles. Time: 4 ¾ hours.
Day 8: You are transferred to the airport, Sibiu or one of the Bucharest airports, in time for your flight home.


Baggage Transfer
Your baggage is transported for you from hotel to hotel so you can then travel with day rucksacks.
Walk Grading
Self-guided – Moderate, with some long days.
Total for standard week ignoring variations:- Ascent: 3970m. Descent: 3820m. Distance: 64 miles.
This map is for illustration purposes only and we cannot be held responsible for its accuracy.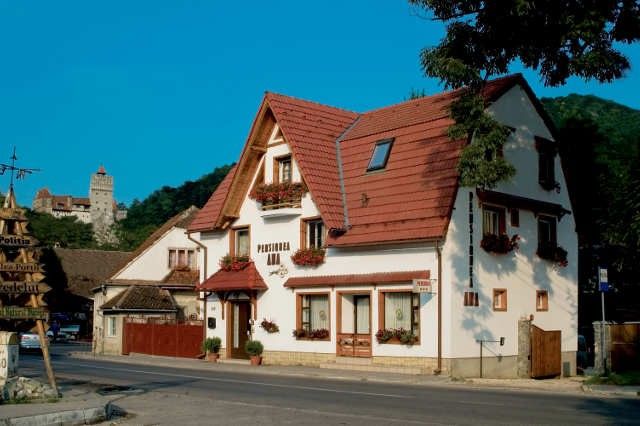 The hotels are mostly small family run hotels. The largest is in Brasov with 40 rooms and the smallest with 4 rooms. All rooms have private bathroom, mostly with showers. You will be assured of dinner with Romanian specialities and country breakfasts. Romanian hospitality will also be to the fore as the owners in most cases will welcome you personally.
VIEW MORE INFORMATION
Availability Information
The best time to go is from April to early October, with July and August being too hot for some. From mid October onwards there is a high risk of snow.

Please note our best to go information is generally referring to the walking which may fall in the early or late season in some places. This may mean that not all tourist facilities will be open at the time you visit.
When to book your walking holiday in Romania - Romania - Transylvanian Castles
| | | | | | | | | | | | |
| --- | --- | --- | --- | --- | --- | --- | --- | --- | --- | --- | --- |
| Jan | Feb | Mar | Apr | May | Jun | Jul | Aug | Sep | Oct | Nov | Dec |
| N/A | N/A | N/A | Good | Best | Best | Good | OK | Best | OK | N/A | N/A |
---
Request A Quotation Send Us An Enquiry