---
Holiday Highlights
'Home of the Matterhorn' where you can easily access its impressive slopes within this car free zone
Walk through pine-scented mountain forests to the shores of calm Alpine lakes
Routes always benefit from stunning mountain backdrops and enthusiastic Marmots!
Request A Quotation
Send Us An Enquiry
Overview
Walking
Pricing
Map
Accommodation
Info
The Zermatt area has a total of 250 miles of well-marked footpaths which will take you through pine-scented mountain forests to the shores of calm Alpine lakes and to ice-blue glaciers. Zermatt has been a prime destination for walkers and mountaineers for over 150 years. As well as gentle valley walking, large areas are protected zones which offer plenty of opportunities for challenging and remote walking, including access to the slopes of the Matterhorn itself. Mountain railways make it easy to reach the high altitude rambling areas. There are many mountain cabins and restaurants ready to offer a warm welcome and a leisurely rest to enjoy the spectacular views all around.
Zermatt is a Swiss German speaking village located at the eastern end of the Canton of Valais. It has the advantage of being totally car free.
Electric taxis and buses will get you around to all the major places of interest but as the distances are not great most people prefer to walk. There is a very Swiss feel about Zermatt despite there being all the benefits of a village catering for international visitors.
The bustling main street is full of restaurants and shops selling all you might need during your stay. We have chosen hotels in quiet areas. The walking areas are quickly reached from the village either on foot or by using the three main rail or cable car systems that whisk you high above the village to start your walks.
The village is situated at the foot of the famous Matterhorn and is surrounded by thirty eight 4,000m high mountains, more than any other village in the Alps, so the walking always benefits from the most stunning backdrops.
You can walk up to the hut on the slopes of the Matterhorn which is the start point of ascents of the mountain itself. Or perhaps walk along a section of the EuropaWeg (one of Switzerland's long distance walks) along the valley side from Zermatt to Tasch and enjoy stunning views of both settlements.
If you have a head for heights try the walk that takes in the spectacular Gorner Gorge using a walkway fixed to the rocks above a swirling torrent.
Take the cable car to Rothorn (3150m) and then walk back to Sunnegga passing 3 beautiful alpine lakes and unrivalled views across to the imposing Matterhorn. Walk from Zermatt up to Trift and on to Hohbalmen for a walk where you will probably see more marmots than people. We could go on and on and on ….!
Our self guided Walk Booklet has walks from a 2 hour valley stroll with a 190m climb to an 8 hour walk with an ascent and descent of 1100m.

Walk Grading
Self guided - Easy Moderate & Challenging
This map is for illustration purposes only and we cannot be held responsible for its accuracy.
Located in a quiet area of Zermatt you will feel at home from the moment you step through the door of La Ginabelle. You can choose to upgrade to superior category rooms which are larger, many have views towards the striking Matterhorn. The family Abgottspon-Schell have been in the hospitality business for generations and built La Ginabelle in a traditional Swiss style. It has the largest spa and wellness area of any hotel in Zermatt which includes indoor and outdoor swimming pools, jacuzzi and sauna. An excellent dinner is served in the elegant restaurant which is 5 course, vegetarians are well catered for.
All rooms feature free Wi-Fi, television, telephone, safe and private bathroom with WC, shower/bath and hairdryer.
VIEW MORE INFORMATION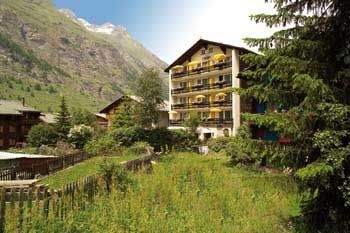 Located just 700km from the train station and ski lifts, this traditional family run 4* hotel offers a fantastic spa area with jacuzzi, sauna and steam baths. Most rooms have a balcony, the superior rooms have splendid views of the Matterhorn. Buffet breakfast is taken in the wood panelled dining room as is the gourmet dinner in the evening, with many Swiss specialities using local and seasonal ingredients.
All rooms feature free Wi-Fi, television, telephone, safe and private bathroom with WC, shower/bath and hairdryer.
COVID-19
Please note that buffet breakfasts are currently restricted, you will therefore be served at your table.
The bar and spa area are open.
VIEW MORE INFORMATION
Availability Information
Snow closes some of the paths up to May but most open in June and remain so until mid October when early snow may restrict the number of routes available.
Please note our best to go information is generally referring to the walking which may fall in the early or late season in some places. This may mean that not all tourist facilities will be open at the time you visit.
When to book your walking holiday in Switzerland - Switzerland - Zermatt - Home of the Matterhorn
| | | | | | | | | | | | |
| --- | --- | --- | --- | --- | --- | --- | --- | --- | --- | --- | --- |
| Jan | Feb | Mar | Apr | May | Jun | Jul | Aug | Sep | Oct | Nov | Dec |
| N/A | N/A | N/A | N/A | N/A | N/A | Best | Best | Best | OK | N/A | N/A |
---
Request A Quotation Send Us An Enquiry