---
Holiday Highlights
Experience all the glory of the snowy landscape well away from skiers and crowds
Discover some of the most beautiful mountain scenery that Switzerland has to offer
Explore your very own winter wonderland walking
Request A Quotation
Send Us An Enquiry
Overview
Walking
Pricing
Map
Accommodation
Info
Meiringen is the most prominent settlement in the Haslital Valley which stretches from the Grimsel Pass to the peaceful waters of Lake Brienz at the eastern end of the Bernese Oberland. The valley is ideal for winter walking holidays with an extensive network of winter walking paths most well away from the skiing areas.
After searching throughout Switzerland we believe Meiringen is the best base in the country for winter walking. A combination of a network of walking paths of reasonable length (not dominated by skiers hotels that do not increase their prices for the winter season) and lots of places to visit nearby or other activities to take part in.
Meiringen a typically Swiss market town lies on the River Aare whose white glacial waters briskly flow into Lake Brienz a few kilometres west. It is well served by banks, shops, hotels and restaurants and as its name might suggest is the birthplace of the meringue. Its people are welcoming kind and hospitable.
The impressive Reichenbach Falls nearby provided the scene of the fictional death of Sherlock Holmes at the hands of arch enemy Professor Moriarty. A statue of Holmes (complete with deerstalker and pipe) stands in the tree lined square by the former English church now the Sherlock Holmes Museum.
A special feature of Meiringen as a walking centre is the access afforded to the very extensive and varied walking opportunities both in the locality and further afield. A superb integrated network of cableways post buses and trains can take you in all directions to reach spectacular locations quickly and easily. Meiringen is a perfect base for walks and excursions both in summer and winter.
Alpine winter walking is a special feature of Meiringen and was pioneered by New Experience Holidays. Many paths are kept clear so one can experience all the glory of the snowy landscape well away from skiers and crowds. This is the proverbial winter wonderland! Winter walking can be undertaken on a self guided basis.
A White Christmas Or New Year Walking Holiday Why not flee the stresses and strains of this commercially demanding time of year at home and take a relaxing Christmas and/or New Year break with us?
We offer self guided walking over the New Year and at Christmas. An experience you will not easily forget!

Self Guided Walking
Our summer self guided Walk Booklet has a total of 23 walks, many with variations, and they are being added to constantly. They range from 4-5 hours and 60m ascents to 7-8 hours and over 1000m ascents.
Our winter Walk Booklet has a selection of walks suitable for the time of year. They tend to be shorter because of walking on the snow and the shorter day.

Walk Grading
Self Guided - Easy & Moderate
This map is for illustration purposes only and we cannot be held responsible for its accuracy.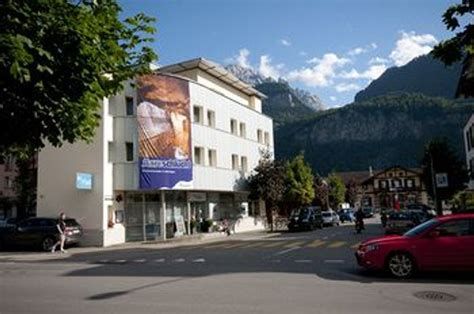 We have been working with this lovely family run hotel since our beginning 20 years ago. The
Brügger family have been welcoming New Experience guests since 2018 and they, and their staff, pride themselves in giving a high standard of service. There is a generous buffet breakfast and 3 course dinner with excellent vegetarian options for half board guests. The hotel is conveniently located for buses and the train station.
All rooms feature free Wi-Fi, television, telephone, safe and private bathroom with WC, shower/bath and hairdryer
VIEW MORE INFORMATION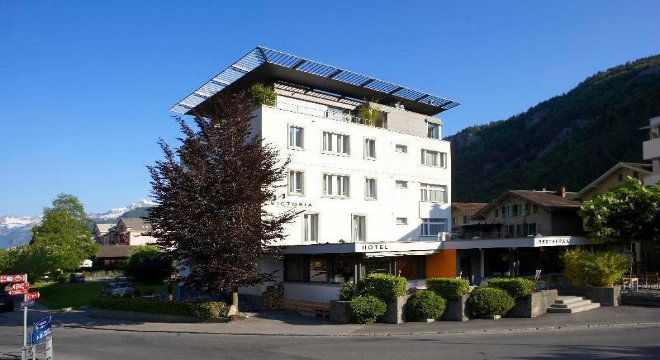 Located just 100 from the bus and railway station, this contemporary hotel is owned and run by Franziska and Simon Anderegg. It is just off of the main street so is convenient for shops, banks and a supermarket. Simon is responsible for the kitchen and presents delicious creative dishes for all tastes. There is always a choice on the menu, vegetarians are well catered for. An extensive buffet is provided for breakfast. Complimentary entry to Meiringen's nearby wellness and fitness centre is available for New Experience guests.
All rooms feature free Wi-Fi, television, telephone, safe and private bathroom with WC, shower/bath and hairdryer.
COVID-19
Please note that buffet breakfasts are currently restricted, you will therefore be served at your table.
VIEW MORE INFORMATION
This friendly 4* hotel is located on a quiet street yet still in a convenient position for public transport. Owned and run by the Gerber family, you will always be assured of a warm and welcoming atmosphere. Their lovely restaurant serves Swiss specialities such as cheese fondue and Chateaubriand streak. They have an onsite wellness centre which features a sauna, steam room and solarium for all guests to use.
All rooms feature free Wi-Fi, television, telephone, safe and private bathroom with WC, shower and hairdryer.
COVID-19
Please note that the onsite wellness centre is open but due to the prescribed minimum distance there will be limited capacity. Reservations may therefore be necessary.
VIEW MORE INFORMATION
Availability Information
Walking in Meiringen is available most of the year. However it is not recommended from the end of October to the middle of December as this is when fresh snow is common closing the winter paths. All the high paths are generally open from July to end of September. We offer guided walking in early summer when the flowers are most abundant and also at Christmas New Year and February for Winter walking. We have separate Walk Booklets for winter and summer for our self guided guests.
Please note our best to go information is generally referring to the walking which may fall in the early or late season in some places. This may mean that not all tourist facilities will be open at the time you visit.
When to book your walking holiday in Switzerland - Switzerland - Meiringen Winter Walking
| | | | | | | | | | | | |
| --- | --- | --- | --- | --- | --- | --- | --- | --- | --- | --- | --- |
| Jan | Feb | Mar | Apr | May | Jun | Jul | Aug | Sep | Oct | Nov | Dec |
| Best | Best | Good | OK | N/A | N/A | N/A | N/A | N/A | N/A | N/A | OK |
---
Request A Quotation Send Us An Enquiry