---
Holiday Highlights
Trek across the north of the island from east to west viewing the best landscapes on offer
Stunning vistas taking in the ever-present coastline on this small island
Cross the top ridge of the island through old laurel forests of the National Park and pass through mystical cloud forests
Request A Quotation
Send Us An Enquiry
Overview
Walking
Pricing
Map
Accommodation
Info
Walking Holiday Spain - Canary Islands - La Gomera
This trek takes you across the island from east to west giving you the opportunity of seeing the best landscapes that La Gomera has to offer. We descend into deep valleys walk through formerly cultivated terraced fields and pass by a unique laurel forest which is a national park and UNESCO World Heritage Site. There are some long and tough days but the route ensures that you experience all aspects of this beautiful and tranquil island. You will pass through Gomeran villages that in many respects continue traditions going back to pre-Spanish conquest. You will enjoy many stunning vistas taking in the ever present coastline on this small island.

We provide detailed walking notes and the best walking map of the island. The walking notes give directions, ascents, descents, average walking times and distances as well as other helpful information. Most of the paths are of good quality.

Day 1: Transfer from Tenerife South to the port then take the ferry to the capital of La Gomera - San Sebastian; a small very traditional Gomeran town. You are met and transferred to your hotel. If you arrive early walk onto the cliffs for a fine view of the harbour. Overnight San Sebastian.

Day 2: After a short transfer to the start of the walk you begin your trek in the mountains of La Gomera ascending through terraced landscapes and formerly cultivated fields passing herds of goats and flocks of sheep. You return to San Sebastian by bus payable locally. Overnight San Sebastian.

Ascent: 1050m. Descent: 130m. Distance: 6 ¼ miles. Time: 3 ½ hours.

Day 3: Today starts with a 20 minute drive to La Laja a small village at the edge of the national park. First you ascend passing by impressive volcanic necks until you reach the Canarian laurel forest which is millions of years old. Then you hike downwards passing the largest waterfall of the island until you reach Hermigua a fertile valley in the northern part of the island. Overnight Hermigua.

Ascent: 1100m. Descent: 1300m. Distance: 10 ½ miles. Time: 6 hours.

Day 4: The day starts with a short transfer. This is the toughest day with some steep ascents and descents mainly on well-maintained stone paths. You are rewarded however with truly spectacular views. You pass an excellent Visitors' Centre at Juego de Bolas before descending down the stunning Vallehermoso valley. Overnight Vallerhermoso.

Ascent: 1100m. Descent: 1100m. Distance: 12 ½ miles. Time: 6 hours.

Day 5: This is a magical lengthy but gentler day's walk which includes wandering through fabled woods a breath-taking ridge walk and excellent views. You cross the top ridge of the island through the old laurel forests of the Garajonay National Park, before descending to Chipude for your next night's accommodation. Overnight Chipude.

Ascent: 1000m. Descent: 300m. Distance: 10 ½ miles. Time: 6 ½ hours.

Day 6: On the last trekking day, you descend to the valley of the great king to walk through the remains of formerly cultivated terraces down to Valle Gran Rey. Wonderful views of the valley and the bells of free-range goats accompany you on your way to the sea where a refreshing dip in the blue Atlantic Ocean or hotel pool awaits you. Overnight Valle Gran Rey.

Ascent: 100m. Descent: 1100m. Distance: 6 miles. Time: 4 - 6 hours.

Day 7: Relax for the day or take our recommended walk along a scenic gorge walking and scrambling to reach one of the tallest waterfalls on the island. This is the perfect way to finish the week as this walk is very unique. Overnight Valle Gran Rey.

Day 8: Transfer home to Tenerife by ferry and then on to the airport in time for your flight back.

Baggage Transfer
Your baggage will be transferred daily to your next hotel so you can enjoy walking with just a day pack.
Walk Grading
Self guided - Moderate to Challenging. Total for standard week ignoring variations:- Ascent 4650m, Descent 4230m, 50 miles.
This map is for illustration purposes only and we cannot be held responsible for its accuracy.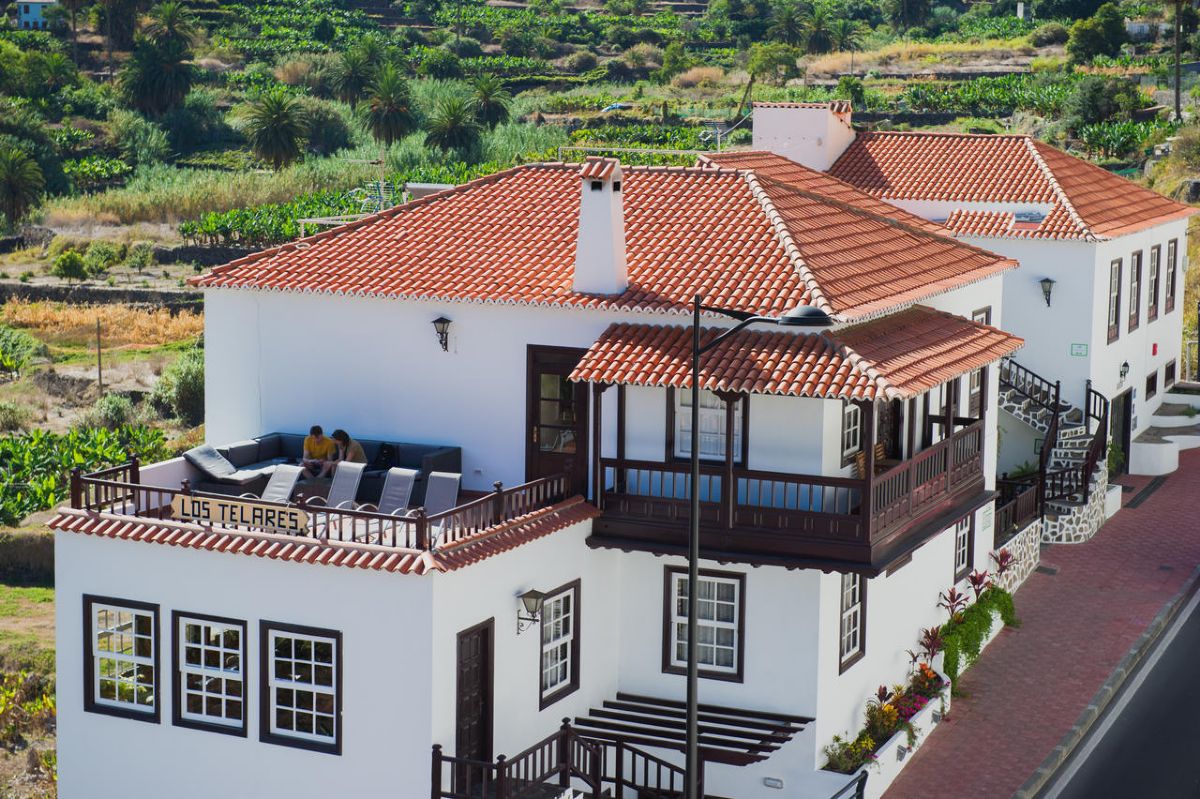 You stay in small family run hotels situated in villages and small towns whilst on the trek. One has a swimming pool and is set amidst banana plantations. Your last two nights are taken in the comparative luxury of a 3 star hotel with roof top pool and for a small supplement a sea view. Dinner is included and is taken in the hotel or in a nearby restaurant.

VIEW MORE INFORMATION
Availability Information
La Gomera is blessed with good walking weather all year round temperatures averaging 20°C at lower altitude. The island's sub tropical climate is however influenced by the trade winds which particularly in winter may bring cloud and rain to the north and much higher temperatures to the south.
Please note our best to go information is generally referring to the walking which may fall in the early or late season in some places. This may mean that not all tourist facilities will be open at the time you visit.
When to book your walking holiday in Spain - Canary Islands - Spain - Canary Islands - La Gomera - The Silent Island
| | | | | | | | | | | | |
| --- | --- | --- | --- | --- | --- | --- | --- | --- | --- | --- | --- |
| Jan | Feb | Mar | Apr | May | Jun | Jul | Aug | Sep | Oct | Nov | Dec |
| Best | Best | Best | Best | Best | Good | OK | OK | Good | Best | Best | Best |
---
Request A Quotation Send Us An Enquiry