---
Holiday Highlights
Based within the mountainous centre for easy access to the best walks
Explore lush forests, exotic fauna and flora, Sahara like dunes, mountains and volcanic craters
Visit ancient settlements and fascinating troglodyte villages built 4000 years ago
Request A brochure
Send Us An Enquiry
Overview
Walking
Pricing
Map
Accommodation
Info
An island of only 600 square miles but a continent in miniature; Gran Canaria offers lush forests, exotic fauna, and flora Sahara-like dunes, mountains, volcanic craters and sometimes snow on the highest peaks. Two things make Gran Canaria distinct from the other Canarian Islands. Firstly, the reservoirs that are abundant in the mountainous region nestling in the valleys giving important water supply to the inhabitants and a refreshing vista for the walker. Secondly, there are the ancient settlements and fascinating troglodyte villages built by the deeply religious Guanche about 4000 years ago, and many are still occupied!

Gran Canaria is proving a very popular choice due to some spectacular walking with high mountain ridges and peaks to explore.
Discover remains of ancient volcanic mountains, deep ravines with palm groves, ancient cave dwellings all amongst reputedly the friendliest people of the Canarian Islands.
All of our walking takes place in the mountainous centre and to avoid long journeys each day we have chosen hotels set deep in the mountains. The walking is on paths of good quality but the variable signposting makes our walking notes or guided walking essential. The great thing about walking in Gran Canaria is the variety of walks that are available on a relatively small island. Gran Canaria really does live up to its nickname of a 'Continent in Miniature'. These holidays are available throughout the year.
Guided - Independent Walking
We include 4 days of guided walking which will cover some of the classic walks on the island. There will be walks through the pine forest, near the inland reservoirs and through some of the troglodyte villages. Most footpaths you will be walking on will be good 'Camino Reales'. The guided walks will be in small groups so there can be some flexibility in the program. The walks will be guided by a local resident with many years experience of walking the mountains of Gran Canaria.
Self-Guided
Our Walk Booklet has a selection of walks for all abilities, all in the mountainous centre of the island. They vary from 6 miles to 12 miles in length with ascents from 200m to 750m.
Our walks have been researched and written by a long term resident who knows every barranco and rocky ridge on the island worth walking. We provide the best walking map available for the island.
Island Hopping
Why not combine 2 or 3 islands for an island hopping walking holiday?
Walk Grading
Guided - Easy & Moderate
Self Guided - Easy, Moderate & Challenging
This map is for illustration purposes only and we cannot be held responsible for its accuracy.
Sat at an altitude of 920m in the small mountain village of San Bartolomé, this hotel offers spectacular views across wide valleys to the sweep of mountains beyond. It is built in a mountain inn style, designed to make the most of its position. There are 52 bedrooms all with their own balcony, terrace or panoramic window so you can maximize the views. There are also suites, larger rooms with whirlpool bath. The restaurant will not disappoint with a superb dinner on offer specialising in Canarian and Mediterranean dishes. There is a heated swimming pool, covered in winter, a tennis court and a programme of other activities various days a week. This is an excellent hotel set in a perfect location for walkers. Free Wi-Fi is available in public areas.
All rooms feature television, telephone, safe and private bathroom with WC, shower/bath and hairdryer.
VIEW MORE INFORMATION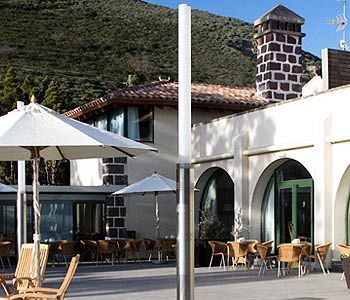 Located in Cruz de Tejeda in a stunningly beautiful environment at a height of over 1,500m, this hotel sits amongst the highest peaks of the island. There are 43 rooms all in a modern style consistent with the whole hotel. All the rooms have bath and some have a hydro massage bath. The restaurant specialises in local dishes using local ingredients giving you the opportunity to sample the best of Canary Island cuisine. Free Wi-Fi is available in public areas.
All rooms feature television, telephone, safe, air conditioning and private bathroom with WC, shower/bath and hairdryer.
VIEW MORE INFORMATION
Availability Information
The best time to walk in Gran Canaria is from October to mid June but walking is practical year around. There is little rain in the winter and average maximum temperatures in Las Palmas on the coast (with the mountains always much cooler) ranging from 18°C in January to 24°C in August.
Please note our best to go information is generally referring to the walking which may fall in the early or late season in some places. This may mean that not all tourist facilities will be open at the time you visit.
When to book your walking holiday in Spain - Canary Islands - Gran Canaria - The Mountainous Island
| | | | | | | | | | | | |
| --- | --- | --- | --- | --- | --- | --- | --- | --- | --- | --- | --- |
| Jan | Feb | Mar | Apr | May | Jun | Jul | Aug | Sep | Oct | Nov | Dec |
| Best | Best | Best | Best | Best | Good | OK | OK | Good | Best | Best | Best |
---
Request A brochure Send Us An Enquiry