---
Holiday Highlights
A Borderland full of history, myths and legends
Discover Areas of Outstanding Natural Beauty
Views are magnificent in all directions as one hill rolls gently onto the next
Request A Quotation
Send Us An Enquiry
Overview
Walking
Pricing
Map
Accommodation
Info
Walking Holiday UK - Wales - Offa's Dyke
This is a land bathed in mysterious history. A land, Celtic in origin, of saints and stones. A land where around almost every corner one finds something ancient. Almost every hilltop is clad with the remains of a fort or castle and burial mounds are scattered far and wide. The valley below hides lanes deep and narrow as they wind between hidden settlements whose habitation extends into the past as far as history can record. It's here, where amongst wood and stream, lie hidden Sacred Places each with a legend to tell. Ancient stone wells carry saintly names such as St. Beuno's and St. Dyfnog's and the smallest of churches whose wooden wheels creak to ring a single bell in call to visit the space within where further treasures await discovery.
Extending virtually the whole length of the border between Wales and England, the Offa's Dyke is renowned as the defence King Offa ordered to be constructed in the 8th Century to divide the kingdom of Mercia, England from several smaller kingdoms, later to become Wales. Views are magnificent in all directions as one hill rolls gently onto the next with wonderfully level stretches in between which wind round hilltop forts and castellated mounds. Far below, ancient villages and medieval towns dot the valley floors where many a river forms a winding silvery trail. The path is well signed and easy to follow, but there lies another, intriguing side to this part of the trail; a side which is mysterious, legendary and magical. It's those exceptional Sacred Places which most walkers simply pass by. Our trek takes you off the beaten path to discover these Sacred Places, thanks to our local knowledge of this area that we call home.
Leaving England and the Cheshire Plains, just a short hop over the border with Wales brings the visitor to a designated Area of Outstanding Natural Beauty in the northeast corner of this Celtic land. Smooth round hills rise within a few miles of England and place names fall into the unpronounceable category to those unfamiliar with the Welsh language. There is a distinctive change in the 'feel' of the land, perhaps attributed to the peace and rural ness discovered so quickly when Liverpool and Deeside have barely slipped from view?
The Clwydian Range rises to provide a perfect boundary as their soft rounded hills fall sharply into the Vale of Clwyd below. From the summits, the sharp outline of Snowdonia's mountains line the horizon, while the lush farmlands of the Vale neatly line the Clywedog River as it makes its way to the sea. This beauty is surprising enough but hidden below these heathery hills lay many a secret that few walkers of the Offa's Dyke Trail rarely discover. Located amongst this awe-inspiring scenery is the New Experience office and with our local knowledge we hope that you will be able to enjoy our countryside as much as we do!

Extended stay
The market town of Ruthin is history to its core with its castle-built-on-a- castle and mediaeval streets of colourful buildings. Restaurants and shops, cafes and art galleries add to its appeal as a base for its visitors.
Llangollen, always a honeypot for visitors due to its stunning setting on the River Dee and backdrop of dramatic hills, as a UNESCO World Heritage Site, marks the perfect ending to your Offa's Dyke trek.
Day 1: Arrival

Arrive in Prestatyn and transfer to St Asaph, home to the smallest cathedral in Britain.
Overnight St Asaph
Day 2: Prestatyn to Bodfari
After breakfast, transfer to the start of the Offa's Dyke Path at Prestatyn Beach with its gleaming monument.
Leaving this popular seaside town, views along the coast are superb with the mountains of Snowdonia to the right and England to the left. Ahead the rounded hills of the Clwydian Range rise gently as you enter a land of tranquility and peace. Traverse ancient stone styles as you wind your way to the pretty village of Bodfari mentioned in the Doomsday Book of 1086 and nestled beneath Moel y Gael's hill fort. 'Current day' St. Stephen's Church dating to the 17th century sits on a religious site also mentioned along with its priest, in the Doomsday Book. Transfer to your accommodation.
Overnight St Asaph
Ascent: 755m Descent: 572m Distance: 12 ½ miles Time: 6 hours
Day 3: Bodfari to Llangynhafal

After breakfast, transfer to the start of today's walk in Bodfari.
A section of the Offa's Dyke Path of exceptional beauty as rounded hills rise sharply from the valley floor transporting you far away from a world of busyness into a world of peace and beauty. Views extend in all directions to Snowdonia, the north coast, Wirral and the lush green expanse of the Vale of Clwyd. Climbing round Moel Arthur, detour to pay a visit to this still visible, Iron Age fortress site. Today is shorter allowing time to explore at leisure, the ancient sites around Llangwyfan and Llangynhafal.
Optional low-level afternoon walk 3 hours – Narrow lanes and Hidden Sacred Gems
Overnight Llangynhafal
Ascent: 654m Descent: 581m Distance: 8 miles Time: 4 hours
Day 4: Llangynhafal to Ruthin

Today's distance is not great, but it's the most strenuous part of your journey as you traverse Moel Dwyll before taking on the summit of another at Moel Famau, the highest point on our trek at 1,821 ft (555m). Surrounded by Grouse moorland and with wonderful views, this is a designated AONB country park. Descending from the summit tower, you gaze upon the defined outline of another hill fort guarding the valley below. Our day ends in the medieval market town of Ruthin with much to explore and a hub of shops and restaurants….and Sacred Places of course!
Option to visit the unique pilgrim church of St. Michael's All Angels nestled in the tiny hamlet of Efenechtyd; an easy circular walk 3 hours.
Overnight Ruthin
Ascent: 474m Descent: 546m Distance: 8 miles Time: 3 ½ hours
Day 5: Ruthin circle walk and Offa's Dyke Path
Leave Ruthin by quiet lanes and pass through the tiny hamlet of Llanrhydd with the original 'mother' church of Ruthin, St. Meugans, dating to the early 1500's. It houses exceptional early carpentry. Our route then takes a steady climb by forest and falls back to the Offa's Dyke Path and the rest of the walk is mainly easy albeit at a high level. Of course, there's always an option to go higher and climb to those Iron Age Hill Forts! The descent is wonderful through the heart of Denbighshire's AONB. Continue into Ruthin town.
Overnight Ruthin
Ascent: 416m Descent: 418m Distance: 10 miles Time: 4 hours
Day 6: Ruthin to Llandegla
Transfer to Clwyd Gate to join the trail and set off, after a short climb, along a fabulous contouring path. The Vale below narrows as the hills draw closer and villages fewer. The landscape changes and a feeling of remoteness envelops the walker. A gentle descent through silent forests brings you back to the valley floor and the old Drover's village of Llandegla where it's all about the Saint, Tegla and Ffynnon Tegla, one of Wales' most holy of ancient wells. This tiny village has a history book to itself….to be told anon. Transfer to accommodation.
Overnight Llangollen
Ascent: 287m Descent: 302m Distance: 6 miles Time: 2 ½ hours
Day 7: Llandegla to Llangollen
A short transfer today sets you back on the Offa's Dyke Path for the exhilarating walk into Llangollen. The trail then takes on the heights of Eglwyseg Mountain and the stunning castellated Bronze Age Dinas Bran with far reaching views of the Dee Valley deep below. This is a stronghold of the Offa's Dyke Path and a fitting end to your week as you descend to the beautiful town of Llangollen founded by monk St.Collen in the 6th century….. more history to peruse as well as the towns restaurants, museums and steam railway. Why not add an extra night or two to explore or walk further afield?
Overnight Llangollen
Ascent: 408m Descent: 575m Distance: 10 miles Time: 4 hours
Day 8: Departure

Walk Grading
The average day is 10 miles with ups and downs of a moderate nature. Most days have an option to shorten if preferred with or without pick up support.


Total for standard week ignoring variations: - Ascent 2994m, Descent 2994m, 54.5 miles.

Self-Guided
Our Offa's Dyke trek is offered on a self-guided basis. We provide full walking notes, history portfolio, and all the relevant maps and backup support you may need.
Baggage Transfer
Throughout this trek your luggage (1 bag per person) is transported from hotel to hotel so it will not be necessary to carry more than a light pack containing items you will need during the day.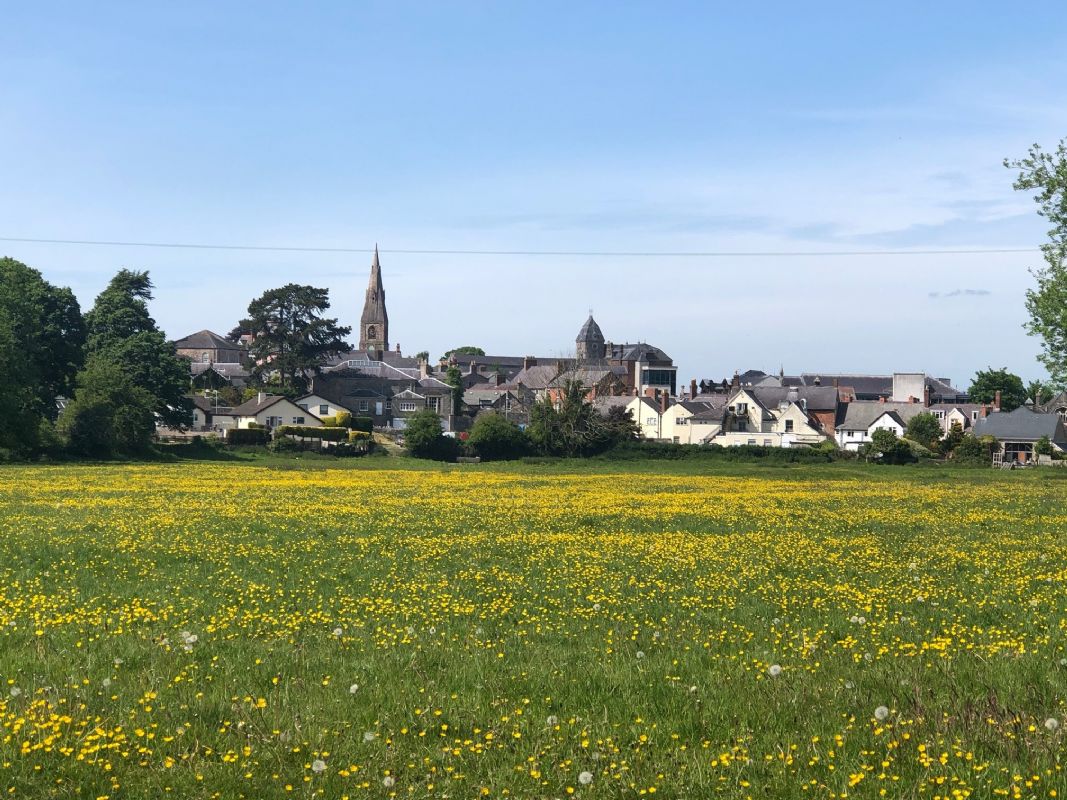 We have personally stayed in or visited all our accommodations. They have all been selected for their great locations, friendly atmosphere, and traditional hospitality, as well as the warm welcome they offer to walkers. Below is a summary of our usual accommodations*.
On this trek, 2 nights are spent in a country hotel, 1 night in a cosy homestay, 2 nights in a luxury townhouse bed and breakfast and 2 nights in a boutique townhouse guesthouse.
VIEW MORE INFORMATION
Availability Information
The Offa's Dyke trail is best experienced 'out of season' although it is a year-round destination.
Late autumn, winter and early spring offer the walker the stunning beauty and true spiritual essence of this remarkable landscape with empty paths, quiet places to stay and of course, the variable Welsh weather. The rest of the year whilst generally offering a more stable climate, is busier with visitors.
Please note our best to go information is generally referring to the walking which may fall in the early or late season in some places. This may mean that not all tourist facilities will be open at the time you visit.
When to book your walking holiday in Wales - UK - Wales - Offa's Dyke and Sacred Places
| | | | | | | | | | | | |
| --- | --- | --- | --- | --- | --- | --- | --- | --- | --- | --- | --- |
| Jan | Feb | Mar | Apr | May | Jun | Jul | Aug | Sep | Oct | Nov | Dec |
| OK | OK | Good | Best | Best | Best | Good | Good | Best | Best | OK | OK |
---
Request A Quotation Send Us An Enquiry