---
Holiday Highlights
Gain a true insight into the authentic rural life and traditional farming practices of Romania
Enjoy the rich wildlife of abundant deer, birds and butterflies housed in the delightful woods
High level routes through pine forest and clearings, with spectacular views of the surrounding Carpathian Mountains
Request A Quotation
Send Us An Enquiry
Overview
Walking
Pricing
Map
Accommodation
Info
Romania is a country of great contrasts where beautiful towns with medieval centres are surrounded by lush countryside where the land is still maintained using their old traditional methods. The vast plains give way to the magnificent Carpathian Mountains which arc through Slovakia, Poland, Ukraine and Romania – a spectacular mountain range clad with intriguing forest. This trek takes you to the Cindrel Mountains which are part of this range, dominated by crystalline schist rocks and valleys with steep slopes – a marvel to look at!
The Cindrel Mountains have a rich wildlife, with abundant deer, many birds and butterflies, and if you are lucky you may even see a brown bear or wolf here. The forest is delightful, with stretches of beech and oak, together with pine and birch making walking a diverse experience as no one species dominates. In summer the beech forest affords welcome shade.
Your last night is spent in the small, charming city of Sibiu where we have put together a short cultural walk for your last day. Sibiu is truly a delightful city with superb central squares and still has its original walls. "Must See" places include the Open Air museum at Astra Park, the City Centre with its three central squares, churches and museums and the Council Tower from you can view the city and the surrounding mountains. The Cibin Market sells local produce and has a section devoted to the excellent local cheeses. We recommend extra nights here to further explore this fascinating city.
The trek takes you through the villages dotted within the foothills of the mountains, and the villages range from quaint agricultural settlements (with frequent horse and cart traffic) to smart settlements where newly prosperous Romanians and Germans have built new houses amongst the orchards and farms.
Whilst lodging in these villages you will generally stay at a Pensiunea where you will often eat with the family and drink their home made wine and schnapps. Invariably you will be made very welcome, as they are proud of their country and region, and are naturally courteous people.
Our detailed walk notes will assist you at times when the waymarks may be infrequent, however the route is reasonably well way-marked. The walking on this trek is graded moderate due to distances (however the terrain is very gentle) as the routes take you through beautiful meadows and along wooded trails. Walking these paths is an excellent opportunity to discover the natural heritage of Romania and to immerse yourself in the unique culture of the local peoples' ancient way of life with their well-preserved traditions.
Day 1: Arrive at Sibiu airport and transfer to your first hotel in Sibiel in just under 20 minutes (included). Overnight Sibiel.
Day 2: This walk is a delightful introduction to Romania and the Cindrel Mountains. You will walk to a beautiful Romanian Orthodox Church and follow a track to traverse transhumance meadows before descending again through beech woods to Sibiel. Overnight Sibiel.
Ascent: 766m. Descent: 695m. Distance: 8.5 miles. Time: 4.5 hours.
Day 3: Your route today takes you across the edge of the Sibiu Depression to the charming village of Fântânele where you take forest tracks across the Cindrel Mountains before descending to the larger village of Orlat. Overnight Orlat.
Ascent: 753m. Descent: 820m. Distance: 12.5 miles. Time: 7 hours.
Day 4: After a short transfer, this circular walk begins in Păltiniş and takes you on a high level route through pine forest and clearings, with spectacular views of the surrounding Carpathian Mountains. Overnight Păltiniş.
Ascent: 560m. Descent: 560m. Distance: 7.25 miles. Time: 3.5 hours.
Day 5: This walk takes you on another high level route through pine forest and clearings, presenting ever more breath-taking scenery of the vast landscapes as you descend to the attractive river village of Rășinari in the foothills. Overnight Răsinari.
Ascent: 500m. Descent: 1360m. Distance: 11 miles. Time: 6 hours.
Day 6: This is an easy walk through typical Romanian countryside in the foothills of the Cindrel Mountains. You will pass through farmland and orchards to the village of Cisnădioara. From there you will walk up a river valley then back down a wooded ridge and meadows to the gypsy village of Prislop and then back to Răşinari. Overnight Răsinari.
Ascent: 930m. Descent: 930m. Distance: 13 miles. Time: 7 hours.
Day 7: Today's walk takes you to the Astra Museum of Traditional Folk Civilization, an open-air exhibit which showcases Romania's rich folk history in a lovely park to the south of Sibiu. From here you walk to the centre of Sibiu, a smart Transylvanian town with a gorgeous central square, passing your hotel on the way. Overnight Sibiu.
Ascent: 35m. Descent: 82m. Distance: 3.5 miles. Time: 2 hours.
Day 8: Depending on your flight departure time you may be able to further explore the fascinating city of Sibiu before your transfer to the airport (included). Alternatively, add some extra nights in Sibiu to fully appreciate this city full of culture.


Baggage Transfer
The luggage is transferred for you from hotel to hotel, leaving you free to travel with a day rucksack only.

Walk Grading
Self-guided – Moderate. Total ascents = 3544m. Total descents = 4447m. Total distance = 55.75 miles.
This map is for illustration purposes only and we cannot be held responsible for its accuracy. ,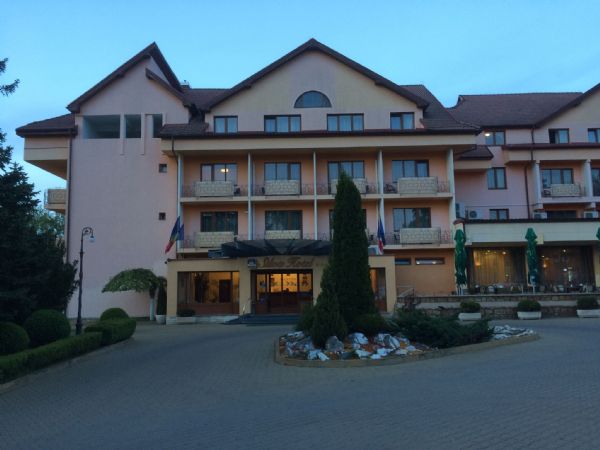 On this trek we have selected small family run accommodations (or Pensiunea) with the exceptions on nights 4 & 7. All rooms have a private bathroom, mostly with showers rather than a bath tub. You will be assured of dinner with Romanian specialities and country breakfasts. You will soon realise the welcoming nature of Romanian hospitality, as in most cases the owners will welcome you personally into their cherished accommodations.
VIEW MORE INFORMATION
Availability Information
This trek is available between late April & early October due to the risk of snow during the winter months. With a mild climate, this trek can be comfortably walked throughout Spring, Summer & Autumn; July & August may be too hot for some. The Autumnal colours of the abundant flora and fauna across the mountains are stunning in September/early October.

Please note our best to go information is generally referring to the walking which may fall in the early or late season in some places. This may mean that not all tourist facilities will be open at the time you visit.
When to book your walking holiday in Romania - Romania - Cindrel Mountains
| | | | | | | | | | | | |
| --- | --- | --- | --- | --- | --- | --- | --- | --- | --- | --- | --- |
| Jan | Feb | Mar | Apr | May | Jun | Jul | Aug | Sep | Oct | Nov | Dec |
| N/A | N/A | N/A | Good | Best | Best | Good | OK | Best | OK | N/A | N/A |
---
Request A Quotation Send Us An Enquiry