Walking Holidays in Wales - UK - Wales - Isle of Anglesey - Wales Coastal Path
---
Holiday Highlights
Add extra nights in the charming village of Llanberis and visit the highest mountain in England and Wales, Snowdon before or after your trek!
Follow the renowned Wales Coastal Path all the way around this beautiful island a true haven for walkers, full of history and culture lovingly preserved over the years
Walk along spectacular cliff tops, visit ancient churches and delight in the abundance of sea birds
Request A Quotation
Send Us An Enquiry
Overview
Walking
Pricing
Map
Accommodation
Info
Walking Holiday UK Wales Anglesey
The Isle of Anglesey, or Ynys Môn, is a beautiful island located off the north-west coast of Wales and is a true haven for walkers, which is why we have chosen to feature it as our next section of the renowned Wales Coastal Path as we make our way around all 870 miles of this superb coastline. The entire Anglesey coastline was designated an Area of Outstanding Natural Beauty in 1967 to protect the aesthetic appeal and variety of the landscape. There's something for everyone to explore along this fascinating coastline and on foot is definitely the best way!
Anglesey is the largest island of Wales and certainly the most attractive. It's full of history and culture that has lovingly been preserved over the years making this impressive isle an intriguing visit full of pleasant surprises. Almost three quarters of the population are Welsh speaking (as well as English), all signs and information points have translations to English so don't worry if you can't speak Welsh. Formerly home to the Duke and Duchess of Cambridge, William and Kate, Anglesey has many historic sites and notable places of interest you can visit such as, the great masterpiece that is Beaumaris Castle, the ancient monastery and dovecote of Penmon Priory, Parys Mountain near Amlwch which is home to the remains of the largest copper mine in the world, the RSPB reserve and lighthouse at South Stack in Holyhead, and not to mention the numerous long sandy beaches, fishing villages, timeworn memorials and old military sea plane bases.
The entire Anglesey coastline was designated an Area of Outstanding Natural Beauty in 1967 to protect the aesthetic appeal, the coastlines variety of landscape and the inhabitants from inappropriate development. This covers all 125 miles of the coastal path around Anglesey. The main features of this distinctive landscape are low cliffs alternating with coves and pebble beaches, sheer limestone cliffs interspersed with fine sandy beaches and long stretches of beautiful sand dunes. The coastline is also home to an abundance of varied wildlife such as seals, porpoises and rays as well as wading birds, oystercatchers, redshanks and ringed plovers, many of which you should be able to spot along your route.
As you follow the Welsh Coastal Path you will be guided by good waymarks and mostly clear paths, our walk notes will assist you along the way giving you detailed information on the areas and distances. On occasions, you dip inland to explore notable historic sites of the island. Walking trails are well kept therefore you can relax and absorb your surroundings. The walks themselves aren't too challenging but keep you going for the majority of the day. On some days you can opt to walk less or more to suit the weather and your ability.
You can combine this trek with our Llŷn Peninsula trek completing two sections of the Wales Coastal Path within two weeks. You can also opt to complete the famous ascent of Yr Wyddfa - Mount Snowdon (the highest mountain in England and Wales), either at the start or end of this trek, we offer a choice of 3 routes to the summit - easy, moderate and challenging. Access to the mountain is just 20 minutes from Bangor which is your arrival point and can be reached by a pre-arranged taxi.

Day 1: On arrival you will be collected and transferred to your first hotel in Beaumaris (included). Overnight Beaumaris.
Day 2: You will be collected from your hotel in the morning and transferred to Penmon Point to begin your walk (you can shorten this walk by being dropped off 5 miles further along). Beginning from the picturesque lighthouse opposite Puffin Island, you traverse through farmland passing various historic sites before dropping down to the wide sweep of Red Wharf Bay. You will pass above limestone cliffs then along the cliffs to an attractive beach before making your way to your hotel. Overnight Moelfre.
Ascent: 340m. Descent: 310m. Distance: 14 miles. Time: 5 ½ hours.
Day 3: Begin by walking through the interesting village of Moelfre, well known for its lifeboat station and famous shipwrecks. Walk above sandy beaches before turning inland passing the Dulas estuary, a haven for birdlife, then along the shore. You will walk through heathland to the historic port of Amlwch near Parys Mountain, formerly the worlds' biggest producer of copper. A short walk remains along the cliff tops to Bull Bay. Overnight Amlwch.
Ascent: 300m. Descent: 330m. Distance: 15 miles. Time: 5 ½ hours.
Day 4: A shorter day today but with plenty to explore. This section of the coastal path is magnificent with some of the best coastal cliff walking in Wales. You will pass the impressive ruins of a former brickworks and natural rock arch nearby. The headland also provides a short excursion to a superb viewpoint. You walk past the site of an abandoned china clay works before arriving at Llanbadrig church perched on a hilltop dating back to AD 440. From here a short walk brings you to the seaside village of Cemaes with its sheltered harbour. Overnight Cemaes.
Ascent: 260m. Descent: 250m. Distance: 6 ¾ miles. Time: 2 ¾ hours.
Day 5: Walk along to Wylfa Head before turning inland. Soon after you come to the shingle bank where the lagoon trapped behind is home to a significant colony of terns in the summer. On your way to the wild Carmel Head, you can call in at a lovely secluded 6th century church. Look out to the Skerries lighthouse as you turn along the coast, dropping down to pebble beaches before more clifftops take you along to Church Bay, home to a small folk museum. We recommend eating at the Lobster Pot restaurant once you are finished walking for either a late lunch or early dinner (it is on your path). Once you are done you will be collected and transferred back to Cemaes. Overnight Cemaes.
Ascent: 200m. Descent: 210m. Distance: 11 miles. Time: 4 hours.
Day 6: You will be collected in the morning and transferred to your finishing point from the previous day. You pass several sandy beaches along the way before turning inland to skirt around an estuary, home to many birds. As you cross the river over a pedestrian bridge, you can take a short diversion to the charming village of Llanfachraeth. Following the estuary brings you to the Stanley Embankment, the final stage of Telford's early 19th century highway from London. Walk along here to cross onto Holy Island and along the shore towards the port over an impressive bridge. Overnight Holyhead.
Ascent: 200m. Descent: 210m. Distance: 14 ½ miles. Time: 5 ¾ hours.
Day 7: Today's walk is a highlight of this trek. After passing Holyhead breakwater, you climb up a narrow path to the heathland of South Stack Cliffs Nature Reserve – spectacular sea cliffs, lighthouses, sea birds and historical sites await you. You could visit the highest point on Anglesey, the location of an Iron Age hill fort and Roman watch tower. You can choose to zig-zag down the steps towards the suspension bridge with its dramatic lighthouse. You will arrive at an RSPB visitor centre with a look out over high cliffs with nesting sea birds. Your last night is a real treat at a 5* restaurant with very comfortable large rooms. Overnight Trearddur Bay.
Ascent: 300m. Descent: 310 m. Distance: 11 miles. Time: 4 ¾ hours.
Day 8: Transfer to Holyhead train station for your return journey home (included).



Baggage Transfer
Your bags will be transferred for you from hotel to hotel, leaving you free to travel with a day rucksack only.
Walk Grading
Self-guided: Moderate. Total ascents = 1600m. Total descents = 1620m. Total distance = 72 miles.
This map is for illustration purposes only and we cannot be held responsible for its accuracy.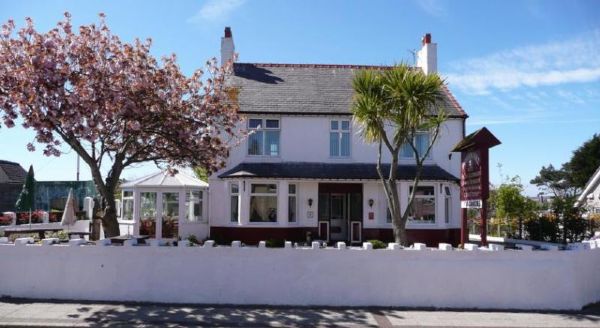 We have personally stayed in or visited all of our accommodations. They have all been selected for their great locations, friendly atmosphere and traditional hospitality, as well as the warm welcome they offer to walkers. Below is a summary of our usual accommodations*.
On this trek, the accommodations are mostly small and family-run, all rooms have a private bathroom.
VIEW MORE INFORMATION
Availability Information
The natural beauty of the Isle of Anglesey is best experienced 'out of season' although it is a year round destination.

Late autumn, winter and early spring offer the walker the stunning beauty and true spiritual essence of this remarkable landscape with empty paths, quiet places to stay and of course, the variable Welsh weather. The rest of the year whilst generally offering a more stable climate, is busy with visitors although this is mainly restricted to villages and beaches.

In late summer the sea, already warmed by the Gulf Stream, is warm enough for a swim from a golden sandy bay. The hardier are welcome to swim for a longer period. Early booking is essential for school and public holidays when accommodation is at a premium and difficult to secure.

Please note our best to go information is generally referring to the walking which may fall in the early or late season in some places. This may mean that not all tourist facilities will be open at the time you visit.
When to book your walking holiday in Wales - UK - Wales - Isle of Anglesey - Wales Coastal Path
| | | | | | | | | | | | |
| --- | --- | --- | --- | --- | --- | --- | --- | --- | --- | --- | --- |
| Jan | Feb | Mar | Apr | May | Jun | Jul | Aug | Sep | Oct | Nov | Dec |
| OK | OK | Good | Good | Best | Best | Best | Best | Good | OK | OK | OK |
---
Request A Quotation Send Us An Enquiry