---
Holiday Highlights
Secluded valleys, Venetian hilltop towns and jagged coastline of islands
Opt to summit Mount Učka at 1401m and witness stunning panoramic views
Become immersed in local lifestyle, sample superior wines and their renowned truffles - the Italian influence is very apparent in this area
Request A Quotation
Send Us An Enquiry
Overview
Walking
Pricing
Map
Accommodation
Info
Istria lies in the very north of Croatia. It encompasses a land of green countryside filled with meadows, vineyards, rivers, forests and olive trees, as well as beautiful villages and charming medieval towns situated on hilltops. Learn about the fascinating culture and heritage of Istria while you explore picturesque landscapes of rolling hills and enjoy unforgettable views that will leave you breathless. Istria came under Venetian influence in the 9th century until the Austrian Empire took over its reign. After World War I, Istria was given to Italy until after World War II when Istria became a part of Yugoslavia – until the country's collapse in the early 1990s when the Istrian peninsula was divided between Croatia and Slovenia. All of these changes have resulted in Istria being very multi-cultural and you can still feel these influences today, particularly the Italian influence in the cuisine. Your trek will immerse you in the local lifestyle, allowing you to enjoy superior wines, homemade olive oils and, some say, the finest truffles in the world known as the "gourmet gem" – the highlight of Istrian cuisine. You will of course have the chance to taste and purchase some of these luxuries.
Visit Hum, the smallest city in the world and relish the historic hilltop towns of Motovun and Grožnjan which look like remnants of another century, half-abandoned accretions of ancient stone poised high above rich green pastures, also known as the towns of artists. Motovun hosts the popular 'Motovun Film Festival' which takes place over 5-6 days during late July or early August. Motovun is also the birthplace of the hugely successful racing-car driver Mario Andretti.
To experience the very best of Istria, you must visit Učka Nature Park which contains a wealth of wildlife and the rugged peaks of the Učka Mountains that drop down into the glistening waters of the Bay of Kvarner. The views become more spectacular with each step, giving you the opportunity to enjoy secluded valleys, fertile plains dotted with hilltop towns and the magnificent jagged coastline of islands, quiet coves and long sandy beaches.
The Area
Istria is the largest peninsula in the Adriatic Sea, located at the head of the Adriatic between the Gulf of Trieste and the Bay of Kvarner. It is shared by three countries – Slovenia, Italy and the largest portion lies within Croatia. Istria's cultural legacy is a complex affair. Historically, Italians lived in the towns whilst Croats occupied the rural areas. After World War I, Istria was given to Italy until after World War II when Istria became a part of Yugoslavia – until the country's collapse in the early 1990s when the Istrian peninsula was divided between Croatia and Slovenia. All of these changes have resulted in Istria being very multi-cultural in nature. Despite post World War II expulsions, there is still a fair-sized Italian community in Istria and Italian is the peninsula's second language.
If you choose to fly into Pula you will get the opportunity to experience Istria's largest city. Pula is home to the well-preserved Roman amphitheatre that dominates the streetscape and doubles as a venue for summer events. The charming hilltop town of Buje, where your trek begins, is an old town with fascinating Venetian palaces, a 15th-century tower and ancient city walls. Near Grožnjan, you can meander through several tunnels and over old bridges along the disused railway of Parenzana. This railway was built by the Austrians to connect Trieste with Poreč through a series of small Istrian towns.
Before you reach the city of Buzet, you will pass the medieval Pietrapelosa castle, meaning "hairy stone", named after the moss which has overgrown the ruins that once housed the aristocratic Gravis family. Walk down into the valley until you reach the trail from Buzet, passing stunning waterfalls, lakes, springs with natural pools and an old watermill. The summit of Učka is worth climbing to witness the stunning panorama of sea and coastal towns with a mountainous backdrop. If visibility is good, you can see towards Venice and the Northern side of the Alps.
For most of the trek, you will be walking along well-marked, easy walking paths including a small amount of road walking, passing beautiful vineyards, orchards and olive groves. On your last walking day, there is an optional 1385m descent from the Učka Mountains. This is quite challenging but worth the effort for the unique views. However, you can opt not to do this as we have an easier alternative on offer.
Day 1: Arrival

You will be collected from your chosen airport and transferred to your first hotel in Buje.
Day 2: Brtonigla to Buje

You will have a short 10-minute transfer to Brtonigla. From here you will pass acres of vineyards and olive groves surrounded by pathways that will lead you towards meadows deep in the heart of the countryside and far away from modern civilisation. Here you can sample superior wines and olive oils. After walking through beautiful vineyards you will reach Buje, a small hilltop town. From the top of the hill you can enjoy the gorgeous view of terraced fields and arable land. Enjoy sightseeing in this intriguing town full of history and culture. The route finishes in front of your hotel (with standard grade accommodation). Overnight stay in Buje. If opting for higher grade accommodation, you will be transferred back to Brtonigla for your overnight stay.
Ascent: 300m Descent: 270m Distance: 9.5 miles. Time: 3.5 hours.
Day 3: Grožnjan to Motovun

After breakfast you will begin your exploration of Istrian villages and secret paths. After a short transfer, your walk begins on the disused railway of Parenzana. The railway was in use from 1902 until 1935; but today it's a winding hiking path through the Istrian hills. Grožnjan will be your starting point. On leaving its famous galleries and viewpoints, you can enjoy magnificent rolling landscapes and vineyards. Walk through several tunnels and cross old bridges, relishing many fascinating viewpoints en route before reaching a village that is the truffle centre of the world. Here you can taste and purchase some truffle products. In front of this village is the hilltop town of Motovun – your destination for the next two nights.
Ascent: 515m. Descent: 515m. Distance: 10 miles. Time: 6.5 hours.

Alternative shorter walk is available at approximately 6 miles, taking 4-4.5 hours.
Day 4: Motovun Circular walk

Today's walk is circular route and begins from your hotel, descending from the hilltop to the walking trail that leads you through vineyards to a small village where you can enjoy an Istrian lunch in a local tavern. On the Parenzana trail you return to Motovun. On your way back you can stop in a small winery to taste the delicious local wines.
Ascent: 385m. Descent: 385m. Distance: 10 miles. Time: 3.5-4 hours.
Day 5: Oprtalj to Buzet

After breakfast you will have a short 15-minute transfer to a picturesque little town deep in the Istrian peninsula. The route meanders downhill into the forest and passes the village of Sv.Lucija. Note the beautiful church in the next village. After the next few villages, you reach a position that offers one of the best views of the River Mirna valley. Pass the Pietrapelosa castle and descend into the valley, the trail then continues towards the hilltop town Buzet. Through forest and fields, the trail will guide you to Buzet where you will stay for the next two nights.
Ascent: 620m. Descent: 865m. Distance: 12 miles. Time: 5 - 6 hours.

Alternative shorter walk is available at approximately 7.75 miles, taking 4 hours.
Day 6: Buzet - Hum Circular

The path from Buzet to Hum can be a circular trail or one-way if you start from Hum. The trail begins by the river and turns into forest, passing waterfalls and lakes. This gentle trail will bring you to Kotli where you can spot the springs with natural pools and an old watermill. The trail continues following the riverbed and passing through an abandoned village where you can see traditional Istrian stone houses. From here, you'll see Hum and its church tower in the distance. You will soon realise why Hum is called the smallest city in the world! In Hum you can eat in the local "Konoba" (Istrian restaurant). The Konoba in Hum offers nothing but delicious, traditional Istrian dishes. The 'Way of Mistletoe' will then lead you all the way back to Buzet. This is a shorter option that halves the distance as you can travel out by taxi (at your own expense) and walk back.
Ascent: 560m. Descent: 560m. Distance: 14.5 miles. Time: 7 - 8 hours.
Day 7: Poklon to Lovran via Vojak (Učka)

You will have a 30-minute transfer to where the trail begins. The trek takes you to the top of Učka Mountain, which is the highest mountain in Istria with an altitude of 1401m. The path leads right down to sea level in Lovran and is covered by oak and chestnut forests that give a pleasant freshness in hot weather. The summit of Učka is worth climbing to witness the striking panorama that includes sea and coastal towns. The western side offers views of the whole Istrian peninsula. If visibility is good, you will be able to see towards Venice and the side of the Alps. If you don't wish to walk all the way down Učka Mountain*, you can descend approximately 1km and be collected by taxi and transferred back to your accommodation (payable locally). Overnight stay in Lovran.
Ascent: 450m. *Descent: 1385m (optional 450m descent). Distance: 9 miles. Time: 5-6 hours.
Day 8: Departure

Please allow plenty of time to be ready for your return transfer to the airport.

Baggage Transfer
Your Baggage is transported for you from hotel to hotel so you can travel with day rucksacks only.

Walk Grading
Self-Guided – Moderate, with one long descent. Total for standard week ignoring variations:- Ascent 2830m, Descent 3980m, 65 miles.
This map is for illustration purposes only and we cannot be held responsible for its accuracy.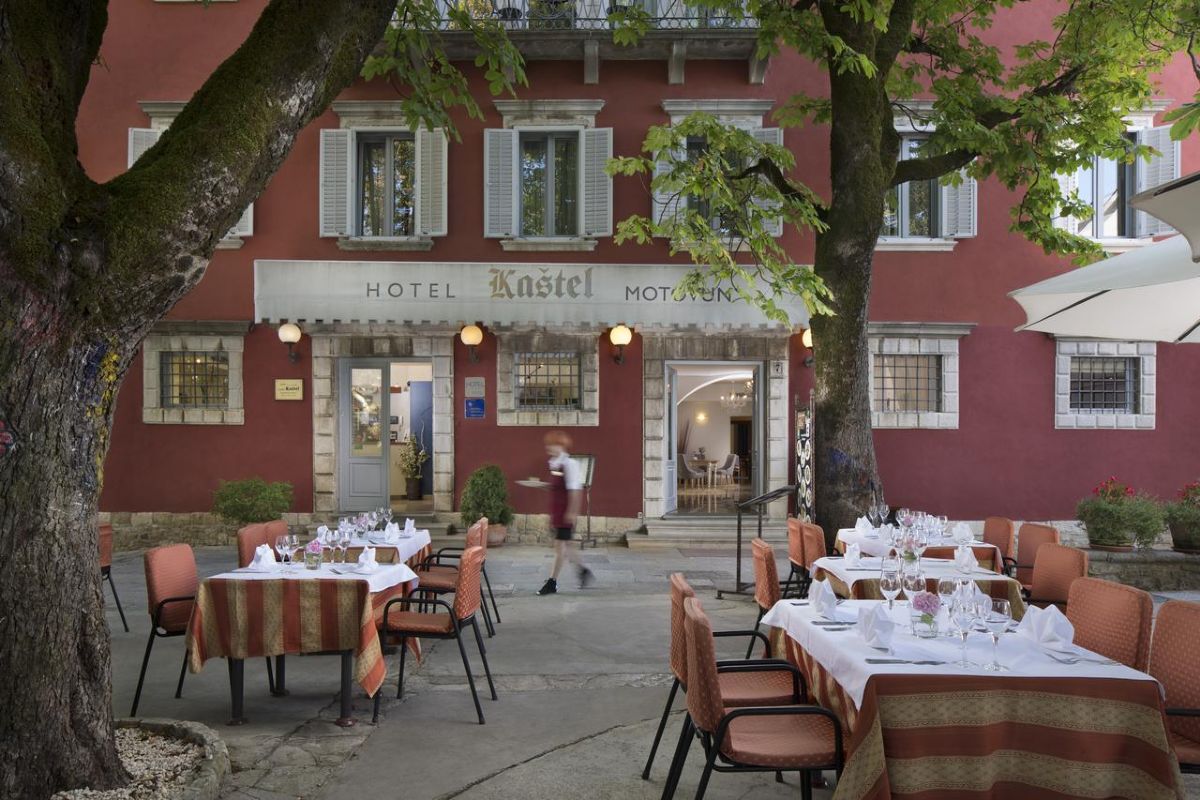 Both the standard and higher grade hotels are a mixture of 3* and 4* and most of them have indoor or outdoor swimming pools. If you opt for the higher grade hotels you can enjoy a swimming pool and spa facilities on 5 of your 7 nights. Many of the hotels are family-owned, historic buildings with stunning views overlooking the Istrian landscape. All rooms have private bathrooms, mostly with showers.
VIEW MORE INFORMATION
Availability Information
The trek is available between March and October. The best time to visit is in spring and autumn as Istria is warm during the day and cool during the evening. The summer months are noticeably warmer and the area is at its busiest at this time. It may be too hot for walking and difficult to secure accommodation during the summer months.
Please note our best to go information is generally referring to the walking which may fall in the early or late season in some places. This may mean that not all tourist facilities will be open at the time you visit.
When to book your walking holiday in Croatia - Croatia - Trek - Green Istria
| | | | | | | | | | | | |
| --- | --- | --- | --- | --- | --- | --- | --- | --- | --- | --- | --- |
| Jan | Feb | Mar | Apr | May | Jun | Jul | Aug | Sep | Oct | Nov | Dec |
| N/A | N/A | OK | Best | Best | Best | Good | OK | Best | Best | N/A | N/A |
---
Request A Quotation Send Us An Enquiry