---
Holiday Highlights
From peaceful valleys to exhilarating alpines, there's something for everybody!
Walk alongside the crystal clear Soča River through mesmerising scenery
Visit the deeply moving historical sights dedicated to memories of WW1
Request A Quotation
Send Us An Enquiry
Overview
Walking
Pricing
Map
Accommodation
Info
Walking Holiday Slovenia - Soča Valley
Situated close to the mighty Triglav National Park and its imposing Julian Alps, the beauty of the North-West of Slovenia will leave you mesmerised. Enjoy strolling alongside rivers full of meltHiking in Soča Valley, Sloveniawater of a stunning aquamarine blue or rising up valley sides into spectacular mountains of predominately limestone, where jagged peaks create stunning vistas wherever you look. Waterfalls cascade down into the valleys and below the mountains you will find rivers winding their way along the valley floors towards the Adriatic Sea.
All across this area are many fascinating natural and historic sites. This area was the site of major battles in World War I and there are many relics and museums that tell the story of warfare along the way.
This area of Slovenia offers a variety of walks, from peaceful valley walking to exhilarating alpine walking, there's an option for everybody. Slovenian cuisine is also a special mix of nearby influences – Italian and Austrian, as well as Croatian and Hungarian.
The Area
In Bovec, one of our centres, walkers can enjoy the blooming colourful meadows and awakening life in spring and summer, and the softness of winds, calm and peacefulness of nature in autumn. The lowland features some forest, blue-green rivers and streams, magnificent waterfalls and gorges is enriched with old homesteads and friendly people.
Our second centre, Kobarid, encompasses a wonderful natural environment and like Bovec is perfectly suited to all levels of walkers. There are many picturesque pathways along rivers and marvellous viewpoints, as well as access to striking waterfalls and gorges. Kobarid is a prominent historical town and is famous for bearing the last battle of the Soča Front during place World War I. There are some beautiful, historical, cultural and natural sights in the vicinity, all connected to the rich history of Slovenia.
The Slovenes are most welcoming people, friendly and more than happy to help you explore their country. English is spoken by everyone who readily comes in contact with visitors.
The Slovenes share with the Swiss in the national sport (or so it seems) of walking. It is a commonly held belief that a Slovene is not a true Slovene unless he/she has climbed to the top of Triglav, the highest mountain in Slovenia, at 2864 metres!
The Walking
There is walking in Slovenia to challenge the most able walkers as well as those who require more gentle routes. At low levels there are beautiful rivers and forests and picturesque villages whilst higher up you will encounter traditional alpine farming, whilst enjoying stunning vistas of limestone peaks. Please note that we have a selection of walks from easy to moderate to challenging, that you can pick and choose from, to suit your abilities. All paths are well maintained, we also utilise sections of the long distance Alpe Adria trail which starts in Austria and ends in Italy.
At both centres, you will walk along parts of the famous 'Walk of Peace' which is dedicated to the memory of the multitude of casualties of World War I. It begins north of Bovec at Log Pod Mangartom, a lovely alpine village and a popular starting point for many walkers. The route passes various poignant reminders of the terrible history of the area, including cemeteries, fortifications, trenches, memorial chapels and a number of open-air museums whilst running through gorgeous scenery and along beautiful river valleys.
Walking alongside the crystal clear Soča River is an absolute must for anyone visiting the area. You can begin from near to the river's source which then connects to serene sections of the valley away from the road and the noise, interspersed with narrow and raging gorges through the limestone. You can walk along the river at both centres. Picturesque footbridges crossing the river add an element of adventure to otherwise peaceful walks.
When you change centres you can opt to walk between the two centres from Bovec to Kobarid or you can choose to be transferred all or part of the way with your baggage. This walk passes the highest waterfall in Slovenia, with a drop of 144 metres.
Self-Guided Walking
We provide you with our self-guided walk booklet with walks catering for all abilities. We also provide local walking maps.
Our recommended walks include some circular routes, starting and finishing at your hotel, whilst others are more suitable as a linear walk. Public transport is available but the timings are not always walker friendly. Transfers can be arranged locally with our local partners.
Walk Grading
Self-Guided – A selection of Easy, Moderate & Challenging walks that you can choose from.
Multi Centre
Why not combine a week at our Bovec and Kobarid centres with a week at our Lake Bled or Lake Bohinj centres, not far away but a completely different experience? We can provide the transfer between the two. Click on the link for more information on our Lake centres or contact us to combine the two.
This map is for illustration purposes only and we cannot be held responsible for its accuracy.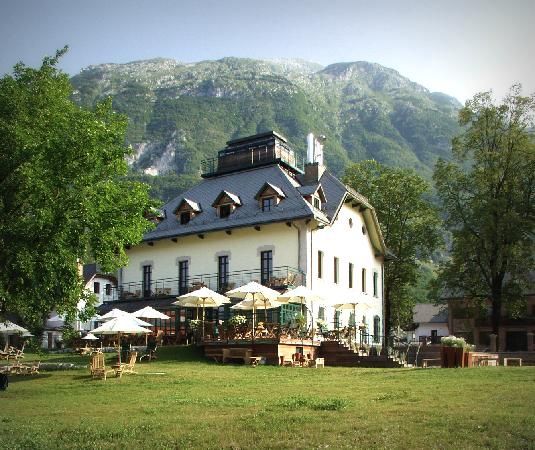 Located in Bovec, Hotel Dobra Vila is housed in a former telephone central office. There are quiet terraces and lawns to enjoy, and an observatory on the roof (seasonal opening times). The restaurant uses locally sourced, fresh ingredients and offers a 3 course menu included in your half board. You can choose from a standard room or for small supplements can opt for a superior room with bath or a superior room with bath and private terrace overlooking stunning gardens and mountains.
All rooms feature free Wi-Fi, television, safe, air conditioning and private bathroom with WC, shower/bath and hairdryer.
VIEW MORE INFORMATION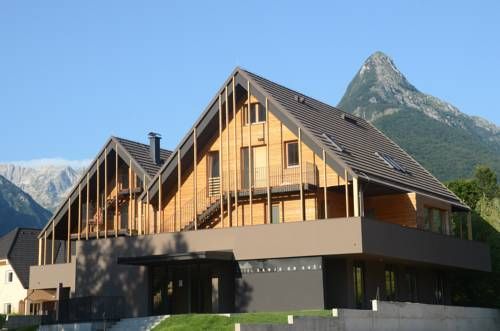 Situated in Bovec, just a mile or so from Soča River, Hotel Sanje Ob Soči is a modern, family run hotel with striking views over the Bovec basin and the Kanin Mountain range from their spacious shared terrace. The hotel also features a bar with a spacious terrace and a massage parlour. Breakfast is served in the hotel's dining hall. A grocery store can be found just across the road while the nearest restaurant is a short 5 minutes' walk.
All rooms feature free Wi-Fi, television, safe, air conditioning and private bathroom with WC, shower/bath and hairdryer.
VIEW MORE INFORMATION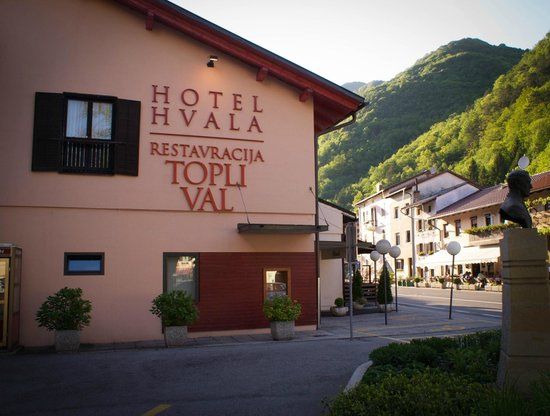 Situated centrally in Kobarid, one of the most historic towns in Slovenia, Hotel Hvala is a family run business, conveniently located for shops and the award-winning WW1 museum. Some of the rooms have balconies, many views beautiful mountain views. Healthy, diverse meals are served at the Topli Val restaurant or on the summer terrace during warmer days. Wi-Fi is free in public areas.
All rooms feature a television, telephone and private bathroom with WC, shower/bath and hairdryer.
VIEW MORE INFORMATION
Availability Information
Walking is available from March to October. May and June sees a profusion of flowers, some of the 3,800 varieties only to be found in Slovenia. The snow disappears here earlier than more Northern Alps but may still linger in May. June to October should be clear of snow everywhere, with July and August being the hottest months, with late afternoon thunderstorms. September and October bring the wonderful autumnal colours and some liken the area to New England at this time of year.

Please note our best to go information is generally referring to the walking which may fall in the early or late season in some places. This may mean that not all tourist facilities will be open at the time you visit.
When to book your walking holiday in Slovenia - Slovenia - Soča Valley - Lakes & Mountains
| | | | | | | | | | | | |
| --- | --- | --- | --- | --- | --- | --- | --- | --- | --- | --- | --- |
| Jan | Feb | Mar | Apr | May | Jun | Jul | Aug | Sep | Oct | Nov | Dec |
| N/A | N/A | OK | Good | Good | Best | Good | Good | Best | Good | N/A | N/A |
---
Request A Quotation Send Us An Enquiry