---
Holiday Highlights
Discover some of the most beautiful mountain scenery that Switzerland has to offer
Walk within sight of some of Switzerland's most stunning peaks; Titlis, Jungfrau and Eiger
Cross two major mountain passes and stay in small, traditional Swiss villages
Request A Quotation
Send Us An Enquiry
Overview
Walking
Pricing
Map
Accommodation
Info
This trek takes you through some of the most beautiful mountain scenery that Switzerland has to offer crossing two major passes and combining stays in small Swiss towns and villages with hotels high on the passes. You walk within sight of some of Switzerland's most stunning peaks: Titlis Jungfrau and Eiger to name but a few. You will view magnificent glaciers as you walk which feed many of the mountain streams you cross. At the end of a day's walking you are assured of a friendly welcome at each of our hotels with meals prepared from fresh local ingredients.
The Walking
The route crosses alpine meadows and skirts crystal clear lakes set high amongst the mountains. It passes through beautiful green valleys with rushing mountain streams and waterfalls tumbling from high above.
The paths are all of good quality and are well waymarked. The route has many options for shortening by taking a cable car or post bus to take the strain out of the climbs or pressure off the knees for the downhill sections.
This makes the walk especially suitable for families, as some members can cut their day's walking short while others continue on.

Day 1: Arrive in Engelberg

This mountain village is just 2½ hours from Zurich airport and we can arrange rail passes or tickets. It is a good idea to add an extra day or two in Engelberg before starting the Bernese Highlights trek getting used to walking at high altitudes. We have several walks in our walk booklet based here. Overnight Engelberg.
Day 2: Engelberg to Engstlenalp

Highest point Jochpass (2207m). Not the longest walk of the tour but a demanding first day because of the total ascent involved. However this can be reduced by using one or more cablecars. Our route takes us up past the Trubsee Lake from where you climb to the Jochpass before descending to Engstlenalp. Overnight Engstlenalp. Ascent 1240m descent 400m 7 ½ miles 4½ to 5½ hours.
Day 3: Engstlenalp to Meiringen

Highest point Engstlenalp. This is a superb walk firstly above the Gental a wonderland for lovers of wild flowers and butterflies early in the season then facing the quite different Hasliberg region. Overnight Meiringen.

Ascent 50m descent 1260m (820m if finishing at Reuti) 10 miles 6 to 7½ hours.
Day 4: At leisure in Meiringen

There is a choice of day walks exploring this amazing walking area. Or take a day off from walking and visit Ballenburg Switzerland's greatest open air museum take the steam railway to the top of the Rothorn or just cruise on Lake Brienz. Overnight Meiringen.
Day 5: Meiringen to Schwarzwaldalp

A short day albeit energetic early on, with opportunities for diversions. You walk up past the Reichenbach Falls famous for the death of Moriarty and Sherlock Holmes in Sir Arthur Conan-Doyle's classic, before walking the stunning Rosenlaui valley. Overnight Schwarzwaldalp.

Ascent 860m Descent 0m 7 miles, 4 to 5 hours.
Day 6: Schwarzwaldalp to Grindelwald

Either take the superb high level route via First and maybe, Bussalp or the more leisurely crossing of Grosse Scheidegg. Ascent 950m descent 700m 8 ¾ miles, 6 hours or the more leisurely crossing of Grosse Scheidegg. Overnight Grindelwald.

Ascents 510m descents 890m. descent 6 ¾ miles. 4 ½ hours.
Day 7: Grindelwald to Mürren

There are options today. Either take the Eiger Trail along the foot of the North Face, or the less challenging route over Kleine Scheidegg - both with stunning views. Ascent 650m descent 1500m 10 miles, 7 hours or the less challenging route over Kleine Scheidegg - both with stunning views. Also mountain railways offer alternative starts and ends. Overnight Mürren.

Ascent 1120m descent 1410m 13 ¾ miles 7 hours.
Day 8: Travel home. The rail journey to the airport on the efficient Swiss railway network through superb Swiss scenery is still very much part of the holiday.

Extension
Why not extend to 15 days and continue walking to Gstaad for a tougher challenge?
Please see Bernese Highlights - West
Self Guided
Our Bernese Highlights trek is offered on a self-guided basis. We provide full walking notes and all the relevant maps as well as transport timetables.
Variations
This trek can be varied to suit your needs just tell us how long you have and difficulty of walking you wish and we will make a recommendation.
Baggage Transfer
On most days your luggage (1 bag per person) is transported from hotel to hotel so it will not be necessary to carry more than a light pack containing items you will need during the day.
For the overnight stays at Engstlenalp (night 2) and Schwarzwaldalp (night 5) you will also need to carry spare clothes and washing kit as your luggage cannot be transported to these more remote hotels.
Walk Grading
Self-guided – Easy, Moderate or Challenging depending on transport options taken. Total for standard week ignoring variations:- Ascent 4220m, Descent 3770m, 47 miles.
This map is for illustration purposes only and we cannot be held responsible for its accuracy.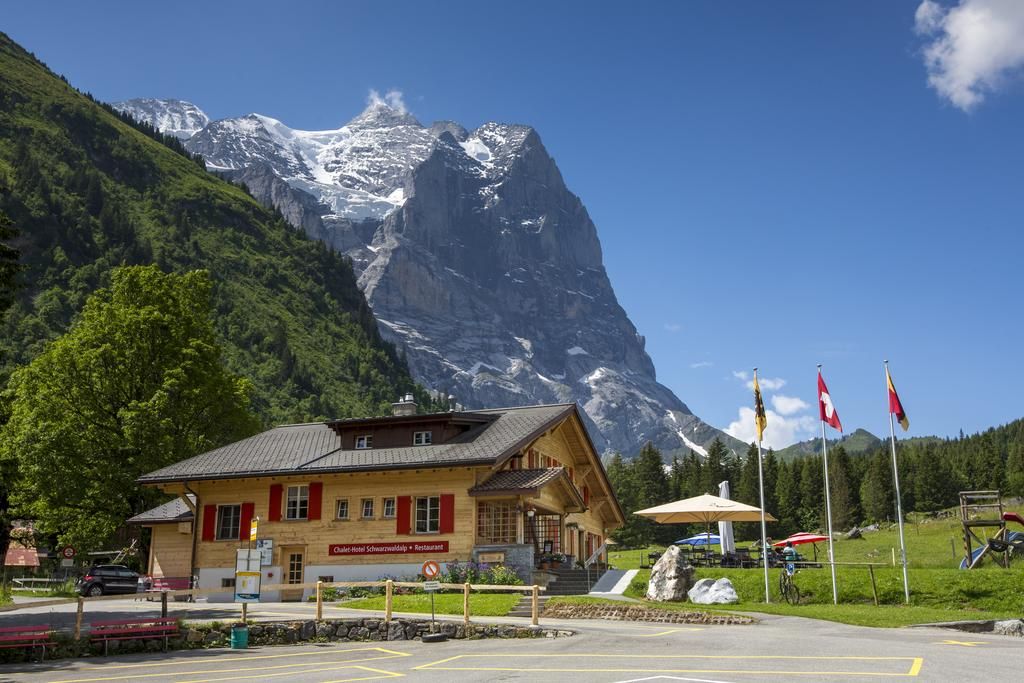 A variety of accommodation is used on this trek ranging from mountain inns to 3 star hotels. All hotels have rooms with private bathroom except one mountain inn where you only have a wash basin in the room and share the shower and WC. Most offer drying rooms for wet clothing and boots. Breakfast and dinner are included on all nights. Dinner will be three courses and breakfasts are of buffet style.

VIEW MORE INFORMATION
Availability Information
Available from Mid June to the beginning of October with a stronger chance of snow affecting the walking on some days in June and October. In this period there are usually local transport alternatives that operate close to the walking route. Extension from Mürren from mid-July only.

Please note our best to go information is generally referring to the walking which may fall in the early or late season in some places. This may mean that not all tourist facilities will be open at the time you visit.
When to book your walking holiday in Switzerland - Switzerland - Bernese Highlights - Eastern Route
| | | | | | | | | | | | |
| --- | --- | --- | --- | --- | --- | --- | --- | --- | --- | --- | --- |
| Jan | Feb | Mar | Apr | May | Jun | Jul | Aug | Sep | Oct | Nov | Dec |
| N/A | N/A | N/A | N/A | N/A | OK | Best | Best | Best | Good | N/A | N/A |
---
Request A Quotation Send Us An Enquiry