Nepal: Emily's Adventure into Chitwan Jungle
Monday, September 3, 2018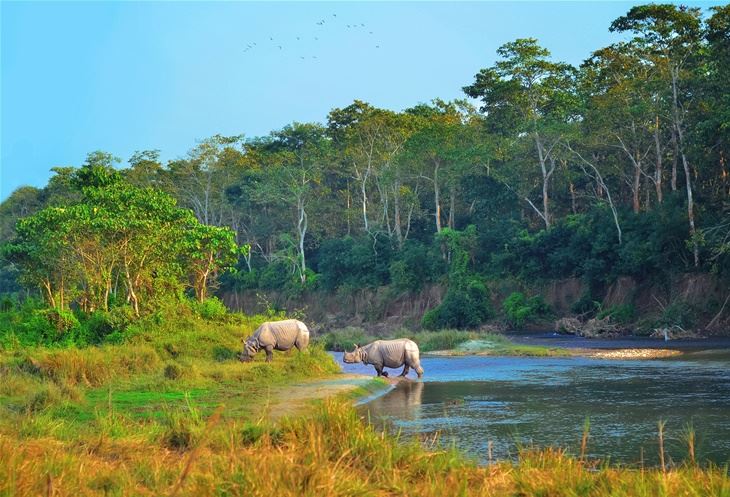 The meaning of the name Chitwan translates to 'Heart of the Jungle' - a perfect description which truly illustrates the enchanting nature of this Nepalese treasure.
After completing our new Peekey Peak Trek within the Himalayan Region, we were well and truly ready for some relaxation, and of course some jungle adventures! I had done my research on Chitwan before leaving home, but nothing really prepares you for your first wild rhino sighting or the fascinating jungle environment you set out to explore – can you really prepare to have your breath taken away?
Day 1: After an hour or so by the pool, we were ready for our first jungle activity. We changed into our appropriately dark-coloured clothing (so as not to attract any unwanted fierce wildlife attention) and were led by our guide through the intriguing domestic centre of Chitwan, and up onto the banks of the surprisingly calm Rapti River. I spotted some dubious looking modes of transport taking people across the river, operated by the locals using a very long stick of bamboo.
Once we clambered single file onto the narrow 'canoes' (actually they were hollowed out tree trunks which were perfectly safe floating over the shallow river section), we couldn't stop smiling along the 60 second river crossing. Camouflaged jeeps were waiting for us as we aimed for the back seats right next to our guide and were told some quick safari rules – do not get off the jeep, remain quiet and keep an eye out for the 68 different species of mammals and 544 different species of birds!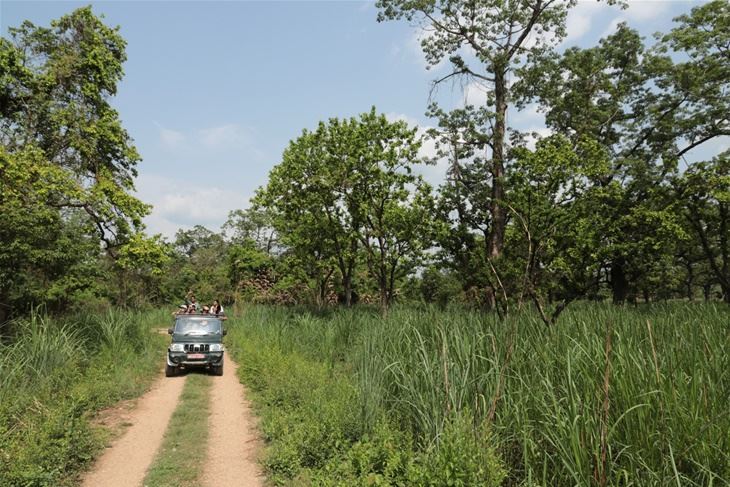 We trundled along the many dirt roads leading deep into the jungle and to our guides surprise, our first animal sighting was the elusive Royal Bengal Tiger! We were excited and terrified at the same time, they really are magnificent creatures. We were even more terrified when the tiger disappeared into the long grass, never to be spotted again that day…
Our Safari continued deeper and deeper into the heart of the jungle, where we were delighted with sightings of the graceful spotted deer, cleverly hidden monitor lizards (guides can spot them from miles away), lively Macaque monkeys, elegant wild peacocks and a striking one-horned Asian Rhino with her calf. We took a break half way into the safari to visit the crocodile breeding centre which was also very exciting! We journeyed back over the River Rapti in our tree canoes and headed for a plentiful evening meal back at our accommodation.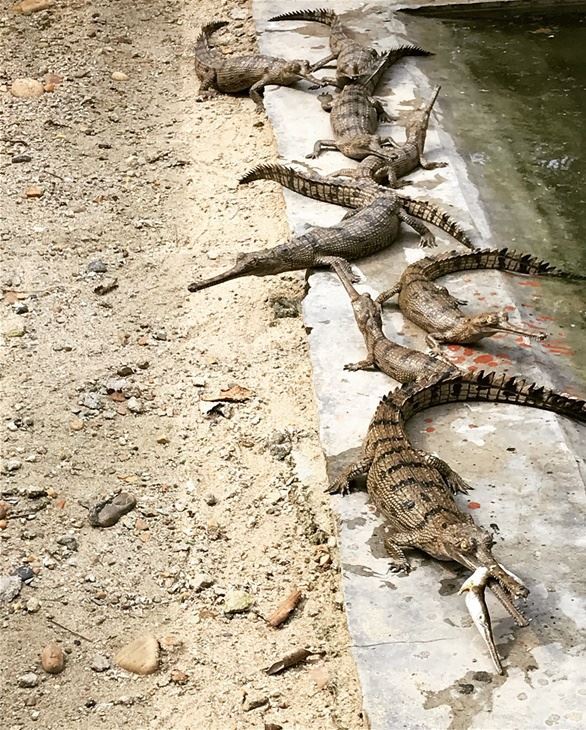 Our next port of call was the local Tharu Cultural Show just a short walk away. Presented each evening in the village hall, this wonderfully loud performance displays a number of traditional dances and musical talents whilst learning all about the Tharu culture. You even have the opportunity to join in on the final dance!
Day 2: After a good nights' sleep, we were up bright and early for the first canoe excursion of the day. By chance, it was just the two of us with our guide and river guide, so we set out on our river journey spotting countless species of fascinating birds as we glided along – my personal favourite was the beautiful Kingfisher.
It wasn't until we witnessed our first crocodile that I truly realised how close they would be to us! Happily basking on the river bank were three mugger crocodiles, seemingly oblivious to us floating past. Ripples in the water were becoming more and more regular as our knowledgeable guide assured us it was just the huge catfish splashing around…
We disembarked just a short walk from the elephant breeding centre which offers heaps of information on the historic traditions of wild elephants in Nepal. We were then driven back to our new accommodation for our last night in Chitwan.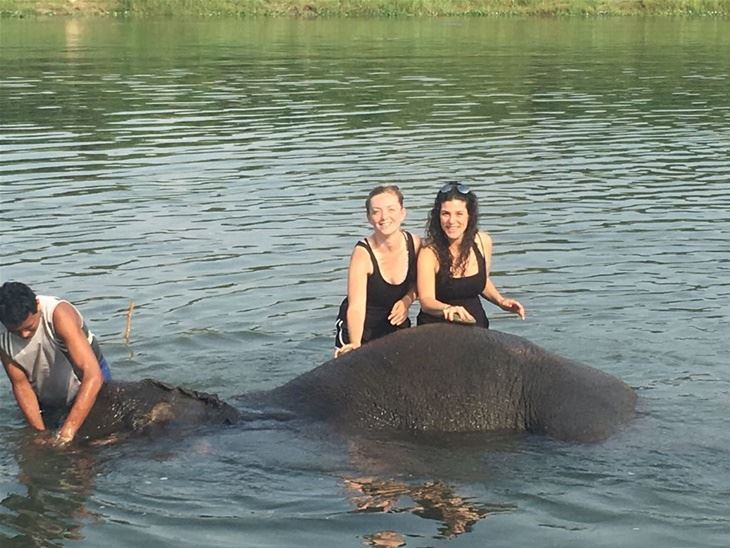 After enjoying some relaxation at the spa, we set off on our final jungle adventure – bathing elephants! We strolled down to the river with our guide (we were assured of no crocodiles in this section), where our remarkable elephant Chondra was waiting for us with her keeper. We overcame our initial reservations about wading into the murky water and quietly approached Chondra who was enjoying a lie down in the cool river. We took a rock as directed by her keeper and began scrubbing! It is a wonderful experience and you're also assisting with one of the elephants four baths a day which they relish. Our guide was on hand with towels and some great photography skills. This was probably my most memorable experience during my time in Chitwan, one I won't forget for a long while.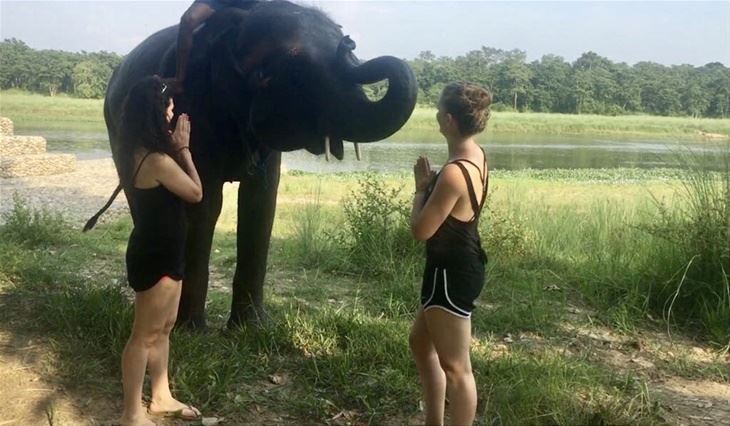 We were sad to say goodbye to the buzzing jungle of Chitwan, but with fond memories we decided we'd definitely be returning in the near future!

VIEW WALKING HOLIDAYS IN Nepal