Debbie Discovers the Secrets of Salento
Descending into Bari, at night, the sea shimmers all around what appears to be a thin strip of land or island even. This is the heel of Italy, the Salento Peninsula, an eastern segment of land which is not the Puglia widely recognised by most potential visitors. In this remote region, there are no Trulli houses or posh vineyards with glamorous hotels, beautiful though all of that is. This is part of Apulia (to Italians), which has much more to offer through its earthy simplicity and an intense organic relationship between its land and her welcoming people.
Apulia points to ancient; to a deep history within touching distance around every corner. The age of everything takes some deep comprehending being the richest archeological region in Italy. Messapians, Mycenaean Greeks, Muslims, Romans and the Spanish have all left their footprint, but talking of the millenniumBC is bewildering. Walking through the quiet peaceful landscape minds constantly delve into their knowledge of history. Then there's the clarity and colour of everything visual beneath a wide blue sky uninterrupted until it meets the deep, rich soil or turquoise sea. Neolithic stones appear from nowhere. They must have fallen from space? Olive groves house trees planted by the ancient Greeks and Romans: there's a whole history on olive oil alone….here.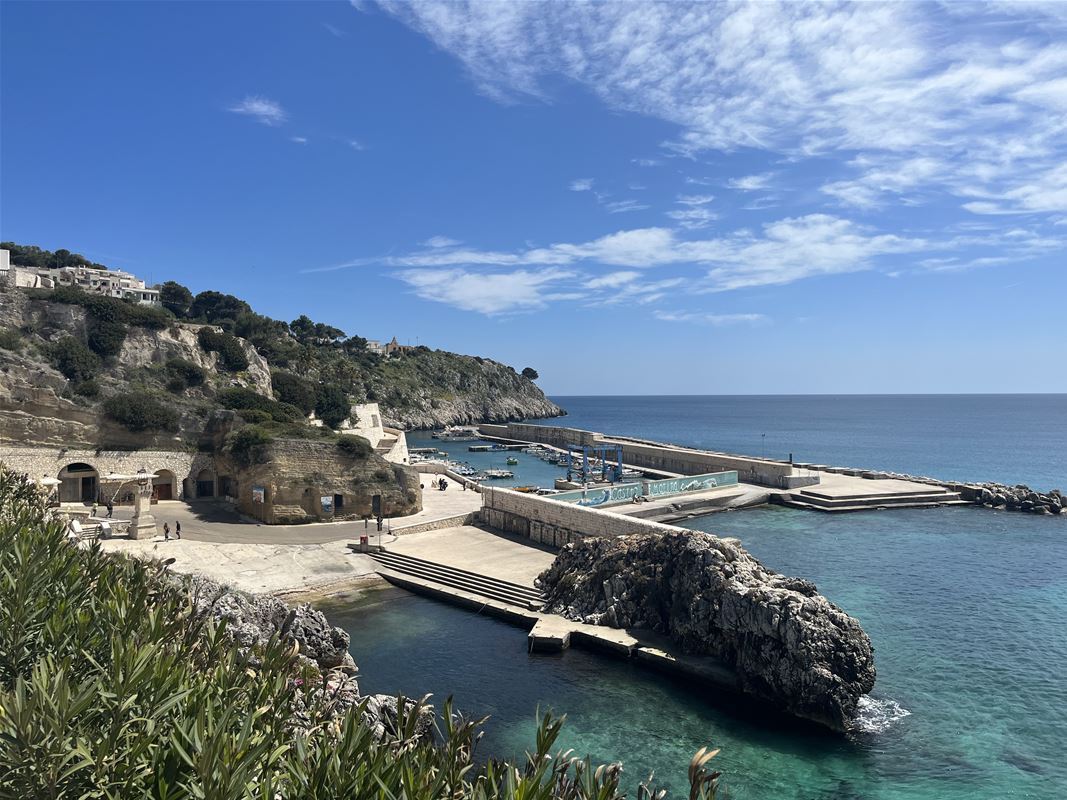 The area is 'widely' know as the Costa Salento, and much of this trek follows the beautifully wild Via Salentina. Coastal walking makes up part of each day and is stunning! It's the daily variety on this trek which is most appealing, although we haven't touched on the food as yet! Seascapes with cliffs adorned with wild flowers, rocky coves lapped by deeply inviting turquoise water for a mid walk swim, sea side towns with brightly coloured renaissance buildings clinging to slopes topped with ancient citadels; its phenomenally crammed with appeal for a walker who enjoys the combination of a relatively easy trek with profound historical intrigue and the ever present ocean…..and an interest in the most delicious culinary array imaginable! Plan your trip around your eating desires and the weather!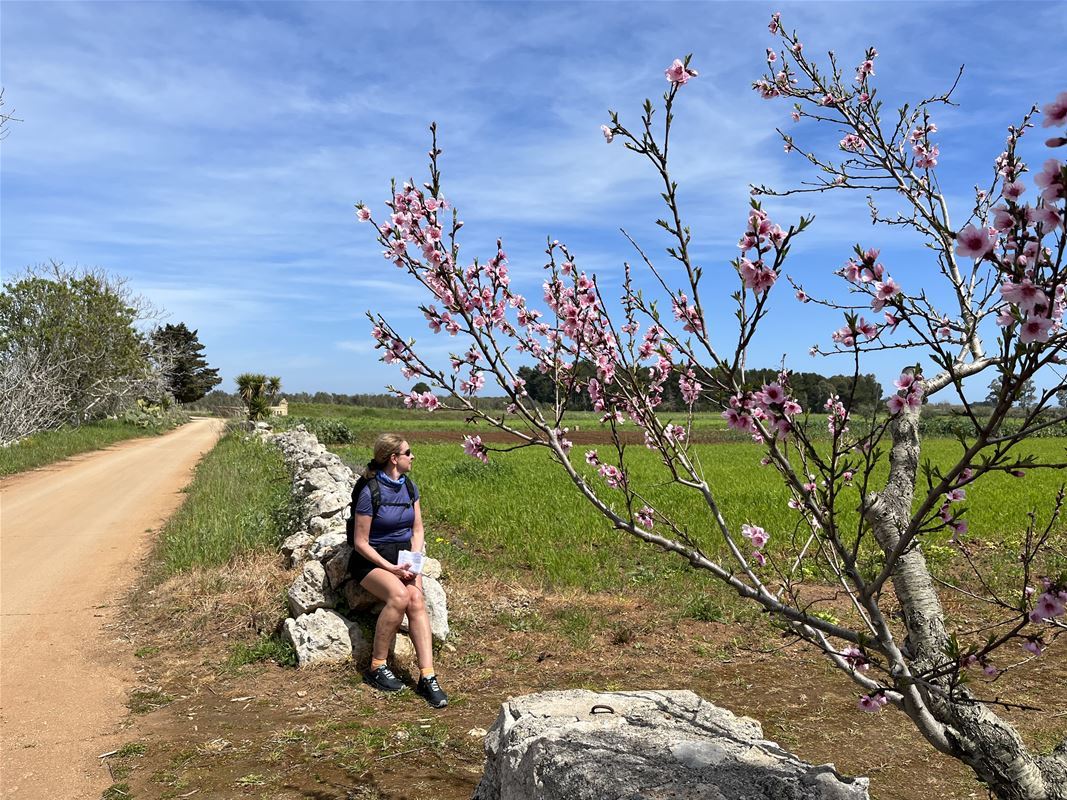 So we come to the food! Eating in this part of Italy tastes simply of organic purity. Everything comes from the earth or sea in such abundance that every taste and diet would be more than satisfied. Think and eat seasonal, so in Springtime expect fresh cheeses, delicate green vegetables, always an abundance of fish and seafood and pasta dishes of such simple sublimity, but they can never be recreated at home. Weather is cool, crisp and bright, but a touch chilly for a dip in the Mediterranean. Autumn brings mushrooms, rich stews and luscious, sun ripened fruits. The landscape mellows to gold and the sea is warm and inviting. Earthy olive oils, organic wines which leave no lingering morning after headache, and breads in all shapes and varieties are just standard at every meal. Coffees, hot or iced, laced with almond cream or something significantly stronger, pastries…..millions of different pastries, and cakes from a tiny morsel to pop with a quick espresso, to a deep, rich confection of cream and custard flavoured with all manner of unusual additions. Finally, no visit to Italy can be complete without Gelato! Pure heaven even for the most avid non aficionado.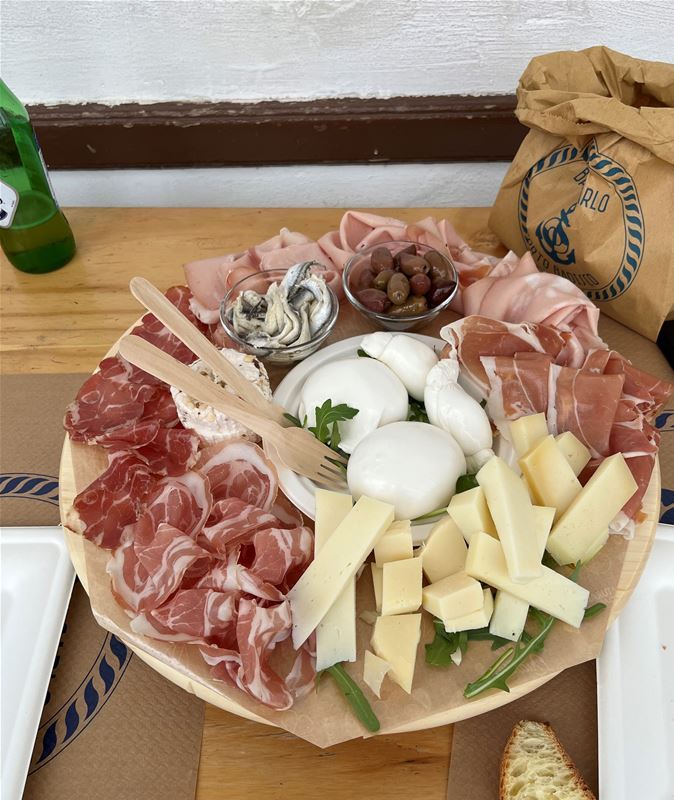 There is however, further icing on the cake, and every twist and turn reveals stunning creamy decoration created by some very talented ……stonemasons. Lecce. I had never heard of Lecce and wonder how it eluded my expansive knowledge of travel, especially when my builder said he knew all about Lecce. I felt even more put out, until I realised he was talking about their football team!
Lecce is considered to be equivalent to, if not superior to Florence in its intricate architecture, but remains off the well beaten tourist track which only adds to its intense appeal. Its buildings of fine, pale sandstone would struggle to be matched anywhere in the world in terms of the delicate carvings adorning every façade. Illuminated by night, glowing against a black starlit sky, the city is purely magical. A day exploring is just about right to visit all 24 churches, and to linger over a last lunch watching the world pass through narrow streets lined with appealing boutiques and pastry shops…..whilst inevitably dreaming of a return visit to this utterly 'delicious' part of Italy.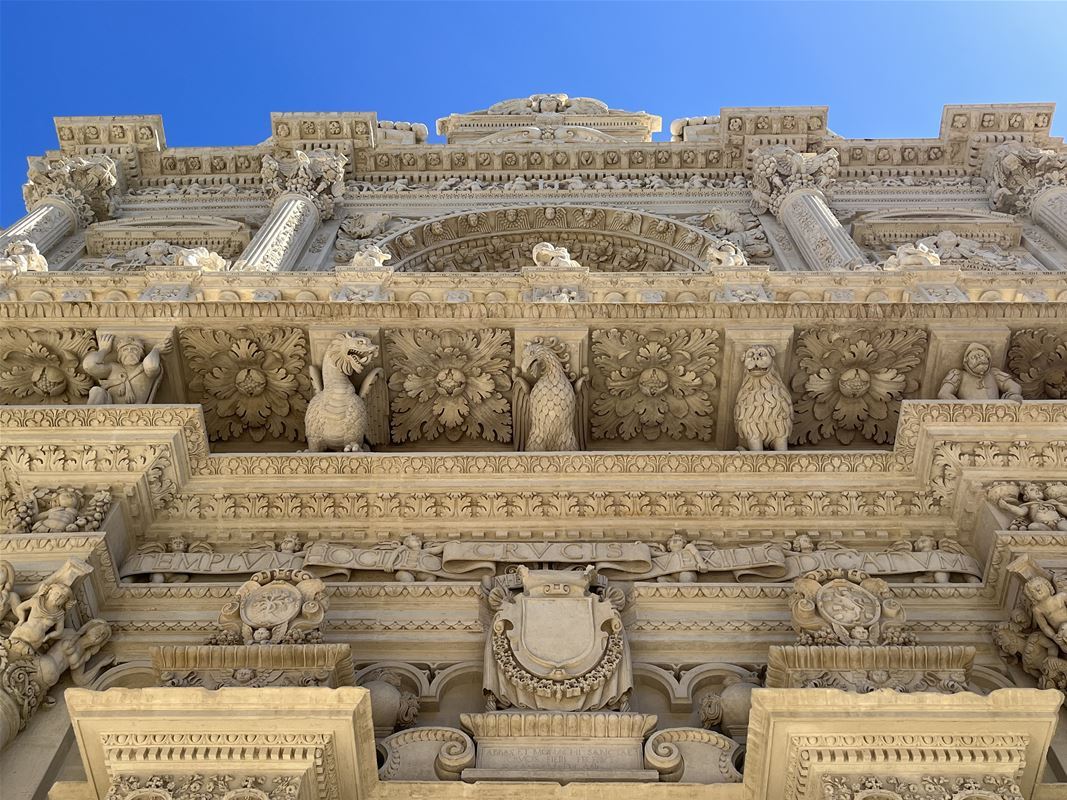 VIEW WALKING HOLIDAYS IN Italy