Summiting Switzerland: Emily & Dan's journey through the mountains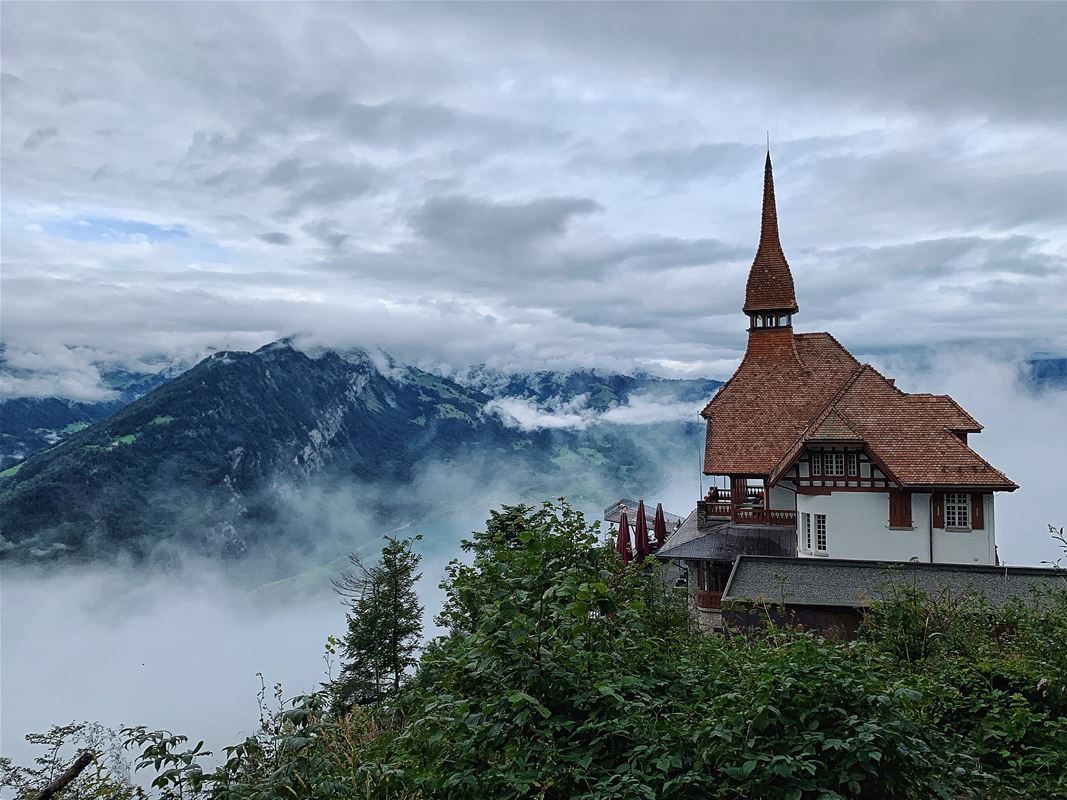 We glided above the impressive mass of shimmering water that is Lake Geneva. Our plane gently landed mid-afternoon in glorious sunshine and soaring temperatures – very hot for September! We swiftly boarded our train and settled in for 4 hours to Meiringen (with some efficient changes along the way). The views of Lake Geneva from the tracks were simply breath-taking, each passenger was in awe. The area was full of visitors enjoying the beautiful day, whether it was water-skiing, sailing, paragliding or just sunbathing from their elaborate lakeside mansions, every person was full of joy – this is Switzerland.
The train rattled along, veering around yet another exquisite lake paired with towering, snow-capped mountains. This was the picture-perfect Lake Brienz; we were almost at our destination. We arrived in Meiringen ahead of schedule, does that ever happen?? It does in Switzerland! The sun had gone down by now, instead the sky was illuminated with glistening stars. We breathed in the clean, crisp air (nothing compares to the fresh air of the Swiss Mountains). Excitement hit a high as we basically skipped over to our hotel opposite the station. Our room was lovely at Hotel Victoria, we ate extremely well as we prepared for the first day of walking ahead of us.
We arose early full of anticipation, only to be greeted by thundering rain with the all-important mountains shrouded in thick cloud. Don't this dampen your spirits! We marched out in our waterproofs along the well-trodden 'Romantikweg'. We turned each corner with a glimmer of hope that the clouds would shift, we weren't so lucky. Despite the weather, our first walk was energising as we strolled across cow-laden farm tracks and alongside bubbling rivers, peering through the thick fog making for an altogether eerie but enjoyable walking experience.
On our second day we ventured out to conquer the mighty ridge walk of Augstmatthorn (2137m summit). After taking a train to the charming village of Interlaken, we reached Harder Kulm by funicular, affectionately known as the 'Top of Interlaken' (with unforgettable views over Lake Brienz – on a clear day of course), this is where we began our walk. And what a steep walk it was!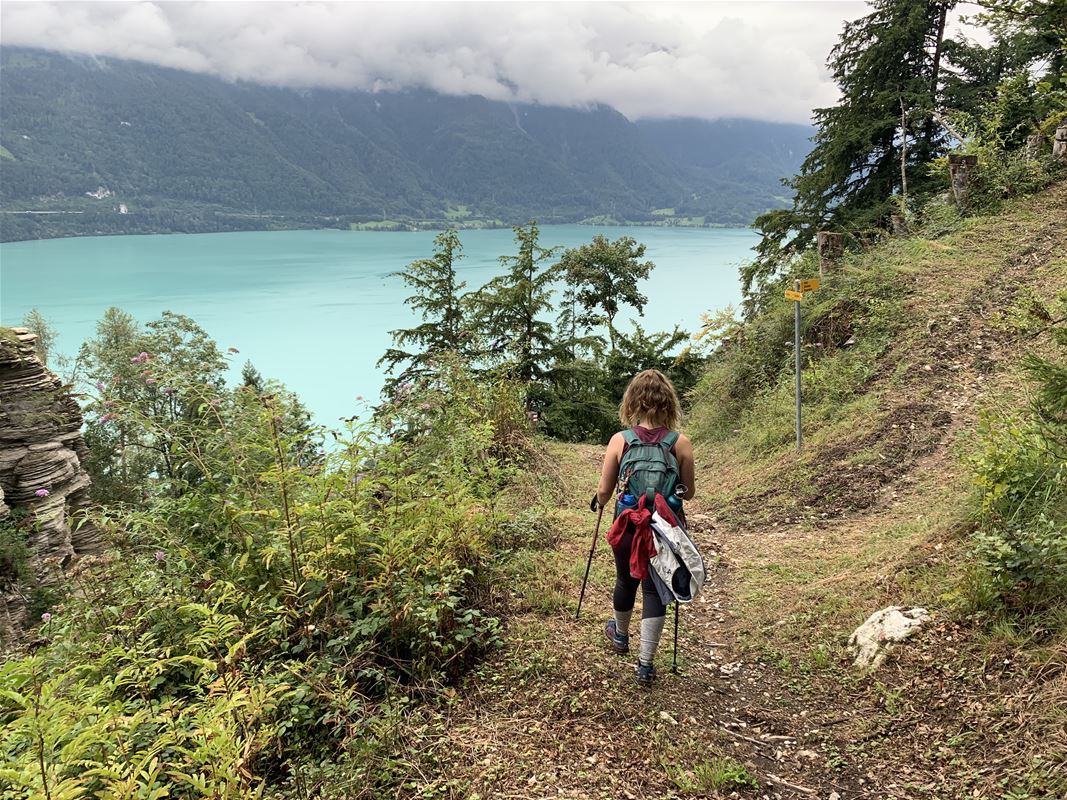 Up, up and up we went hopping over tree trunks under the leafy canopy. It was hard going, yet very peaceful. We heard rustling from the bushes below, then to our amazement, a herd of graceful deer galloped across the path right in front of us. We've never seen anything quite like it! We were lucky enough to spot quite a few deer on this walk, along with the striking Swiss Chamonix perched proudly on the rocks. Even the sun decided to make intermittent appearances through the trees, allowing us to gaze below at the mesmerising Lake Brienz; undeniably a magical day.
On our third walking day, we took the gravity defying Post Bus ride to Engstlenalp. On arrival, we took a small detour to Lake Engstlenee where silent stillness crept up on us. We examined the tranquil, reflective water with ripples of cloud floating just above the surface, overlooked by imposing mountain peaks. In contrast to yesterday, today was all downhill. Through fairy-tale like meadows and woodland, past gushing waterfalls and along high farm tracks home to more friendly Swiss cows. We passed expertly built log cabins as the striking mountains suddenly came into view. We were delighted to be honoured with this unique view all the way into Innertkirchen where just by chance, a never-ending mass of bikers on push pedal bikes waved and happily beeped at us all the way through the village. It was a fantastic event which amazed spectators gawping at the spectacle of smiling bikers with flags from all over the world mounted on their bikes flapping in the wind. What an experience to stumble upon!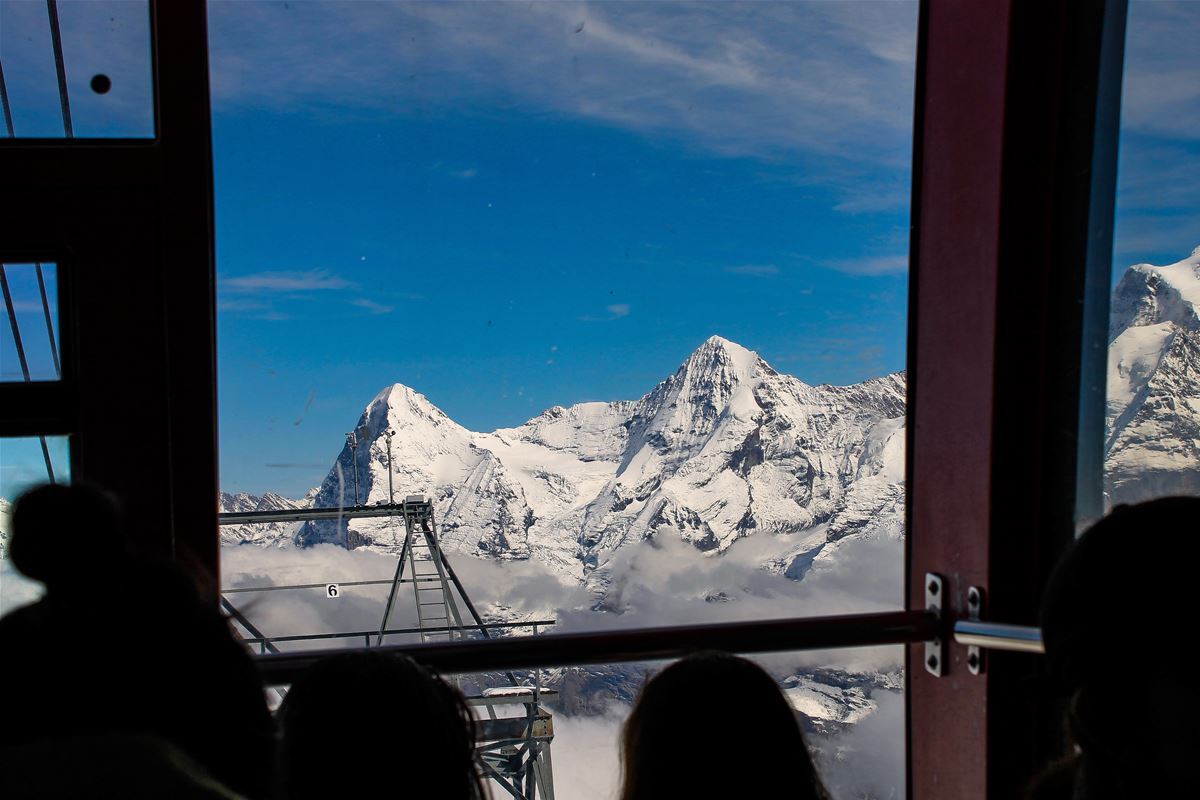 We continued alongside Aare River as we aimed for the renowned Aare Gorge. Already the luminescent ice blue water pierced through the tall gorge walls. The short boardwalk through the gorge is exhilarating as you peer through the gaps in the wood down towards the powerful rush of water beneath you. The history behind the gorge is just as fascinating as you can read the signs as you go, weaving in and out of dripping, stone cold caves and through narrow crevices (not for the faint-hearted!).
The next day, we were moving from Meiringen to Murren, but not before embarking on a short walk around Gelmer Lake. Again, the weather was not forgiving, this became increasingly crueller as we arrived in Handegg. We had read up on the steepest funicular in the world, but photos don't do it justice! We had decided to take this up to Gelmer Lake but I was starting to regret my decision…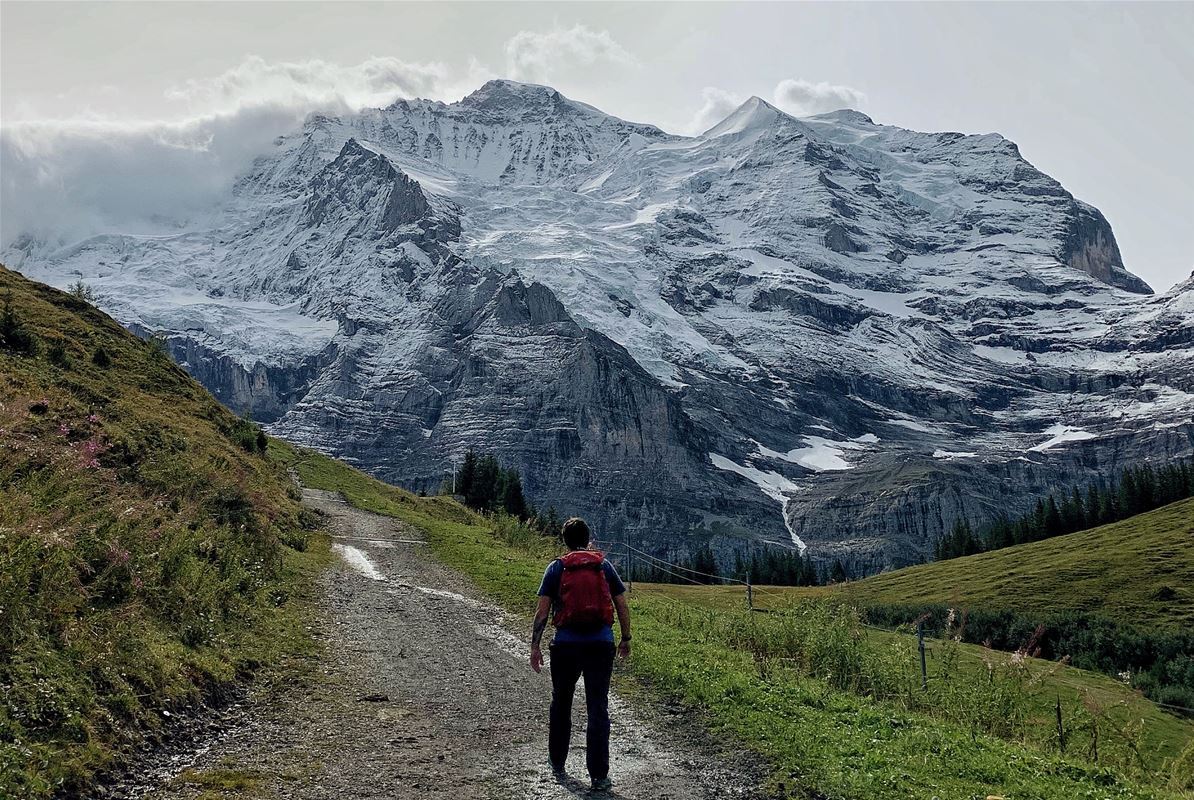 It started to snow. The funicular was quickly disappearing into the thick fog above. We decided to go for it and took the next one up. Despite the feeling of sick in my stomach and fear of toppling out as we edged upwards on a 106% incline, the fog was welcome as I couldn't see the drop down below! After 4 minutes, we were at the top and ready to walk around the lake. Just then, we were advised to not walk around one side of the lake due to the poor weather conditions. And where was the lake? We couldn't see it until we were literally on the banks, the fog was so thick. We blindly walked into the blizzard across a huge dam to the other side where the weather took another turn for the worse. We were soaked through, shivering and couldn't see a thing. Sadly, it was time to retreat. Back down on the jaw-dropping 'roller coaster' we went and over to the nearest restaurant to dry our clothes and warm up; another unique experience!
Now, this is what we were waiting for. The traditional, perfect mountain village of Murren where the sun shines, the mighty North Face of the Eiger looms and everyone is happy. We loved it here and were warmly welcomed into Hotel Bellevue by sweet smells of hot cheese.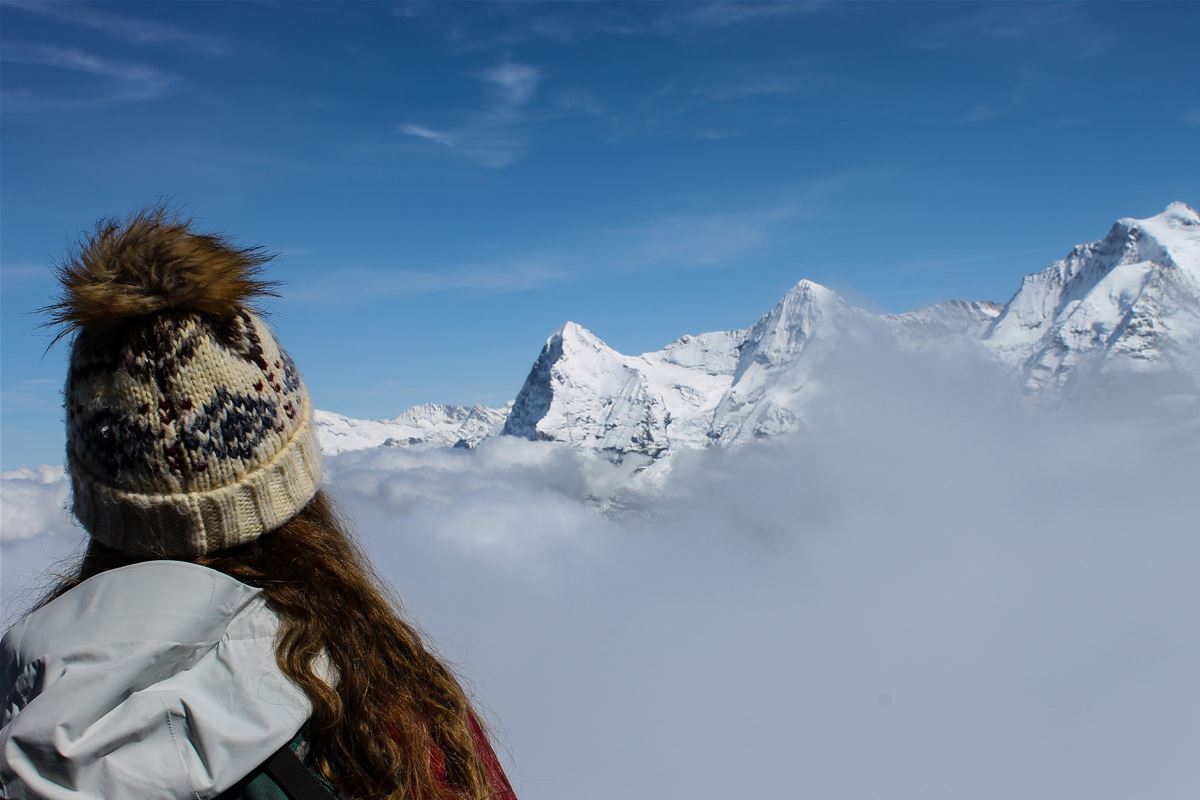 We were awakened by glorious sunshine poking through the striking mountains and leapt out of bed! Off we headed in search of the famous Schilthorn. Up, up and more up we went as the air got colder and the sun began to disappear. We turned a corner and out of nowhere were faced with a blanket of snow. We trudged through up to our ankles not believing our luck as snowflakes began to fall, how quickly the weather can change up here! It was hard going. In the distance we could see a couple of other walkers powering on which gave us some much needed hope that the path was accessible.
As we popped over a ridge we were greeted by the mighty Schilthorn Summit surrounded by impeccable, crisp clear mountain tops smothered in bright white snow. It truly was a sight to behold. The walkers ahead of us hadn't attempted to continue walking to Schilthorn, so we safely followed their lead and turned left for Birg where we caught the 5 minute cable car to the very top. I had never seen a sight like this before. We stepped out into the blinding sunshine, overwhelmed by powerful mountain giants such as the Eiger, Jungfrau and Monch. I could have stayed up here forever (if it wasn't frost-bitingly cold). This was certainly the highlight of our trip to Switzerland, something we will treasure for a very long time. It's moments like these which make all your hard work worth it and why we get out and walk in the first place.
Switzerland is an incredible country, one of the best, especially for walking. The Bernese Oberland region is impeccable, welcoming and one of a kind. After my second visit, I already want to return; it just never gets old!
VIEW WALKING HOLIDAYS IN Switzerland