Nepal- Trek to Peeky Peak
Wednesday, August 29, 2018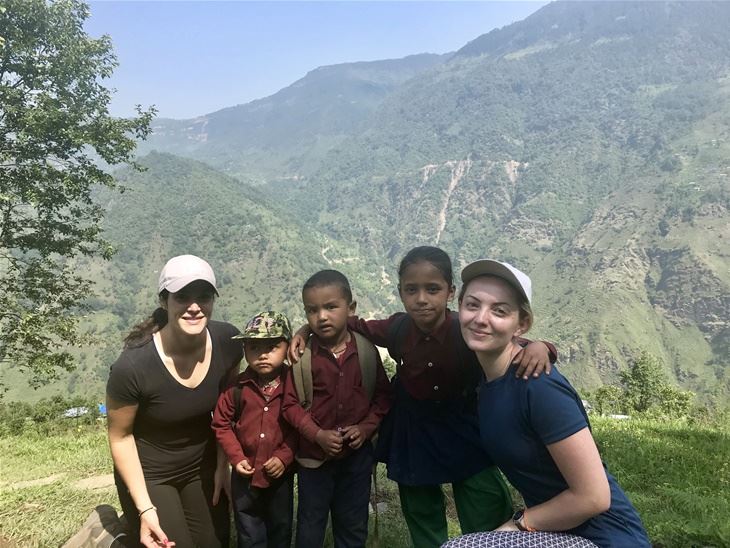 "Peekey Peak Trek is an exceptional lower altitude alternative to the more challenging, busier routes, without any compromise on your cultural or walking experience".
As I was preparing for my journey to Nepal, the above portrayal of what I was soon to embark on was fixed in my mind. I had always been intrigued by the tiny country of Nepal, and how such a small land could encompass 8 of the World's 10 Highest Mountains, fascinated and intimidated me at the same time. I had an idea in my head that it wouldn't be too dissimilar to China where I spent two weeks hiking last year, but it was completely unique.
A common misconception of hiking in Nepal is that you need to be ultra-fit, physically (and mentally) train for the occasion, prepare for extreme altitude and brace yourself to join a steady flow of tourists on route – I personally didn't fancy any of these! These conceptions may be true for perhaps conquering Everest Base Camp or Annapurna, but Peekey Peak offers walkers an exciting opportunity to immerse themselves in the culture and spectacle that the Himalayan Range radiates whilst avoiding excessive altitude and consistent footfall – it's likely that you'll have the paths all to yourselves (we did!).
Peekey Peak Trek is fully guided by a local and very knowledgeable guide (English speaking), so there is no real need for detailed walk notes to follow. However, we visit all our destinations personally so that we can pass our experiences and knowledge onto our clients, not just about the walking, but about the accommodations, the people, the flowers, the wildlife, the atmosphere, the city of Kathmandu and of course the captivating Nepal itself. So, this is what we set out to do!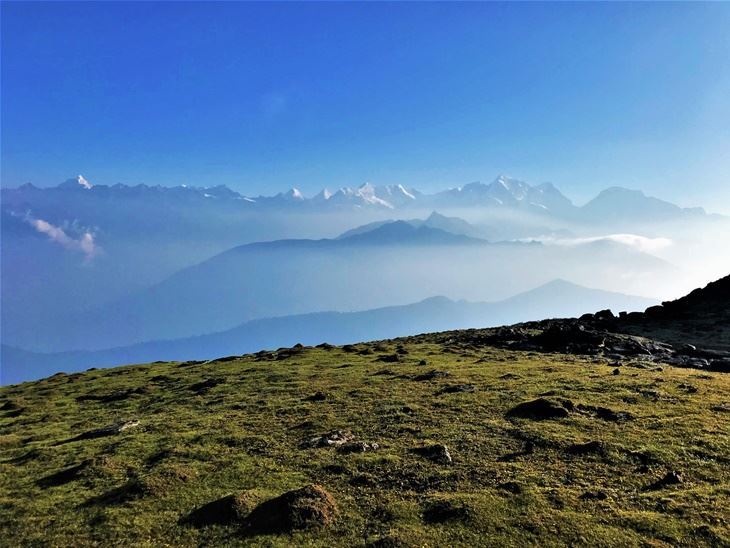 Kathmandu
Having softly landed in Kathmandu's Tribhuvan airport (as a nervous flyer I was expecting the worst), we quickly made our way through visa control and out to arrivals where we were greeted by a large crowd of photographers and reporters – regrettably these were not for us, as we later found out a famous cricketer was coming in to land! Our driver and guide were awaiting us at the door with traditional bright orange floral garlands and equally traditional brightly beaming Nepalese smiles.
A short, yet interesting drive through Kathmandu brought us to our city hotel for the night before an early start the following morning to drive to the start of Peekey Peak Trek, this is where we began our real adventure!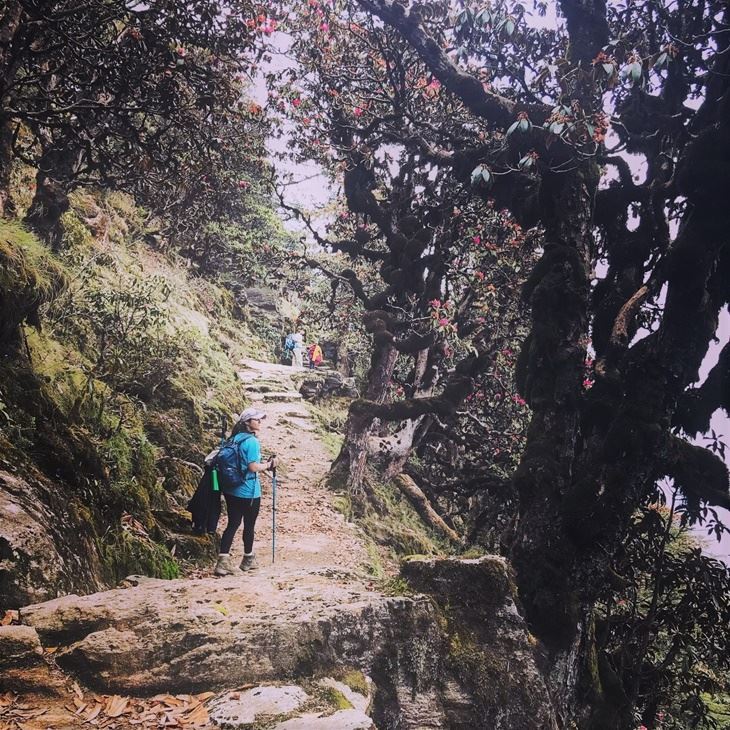 Peekey Peak Trek
It is difficult to condense such a fulfilling and unforgettable experience into this one account, but I'll give it my best shot.
Beginning with an acclimatisation walk around the first village was important for us. Whilst we knew we wouldn't be experiencing extreme altitude, we were still aware that we hadn't been exposed to these heights before and were keen to do all we could to overcome any apprehensions. It was a great introduction to the area which gave us the chance to meet the more than welcoming local villagers, pass through their cherished potato fields and up to a fantastic view point where we laid our eyes on mighty Everest on our first day!
Our second walk day saw us leave the homely village of Patale and set off for Jhapre. Each day brought something new for us, yet we were nearly always greeted by floods of colour from the enchanting Rhododendron and Orchard Forests which also provided us with welcome shade from the hot Nepalese sun. The views on this trek really are unmissable, they took my breath away each time I turned my head. Whether it was of the famous Himalayas or the deep lush green valleys or the glistening temples and prayer flags, there was so much to appreciate as we walked along.
Reaching Peekey Peak itself was of course a highlight of ours. We set off early before breakfast in hope of the best views, although the thick mist and screeching wind did everything it could to discourage us. Yet, as we pushed on up the 480m ascent from Base Camp, our doubts quickly melted away. As we rose above the clouds, the sun shone through the breaks in the mountains creating a truly spectacular moment before us. It really did take my breath away as I gazed upon the panorama of these natural wonders; the early start was more than worth it, and I can completely see why this was Edmund Hillary's favourite view of Everest! We happily trundled back down to Base Camp for a well-deserved breakfast then got on our way to complete the rest of our trek.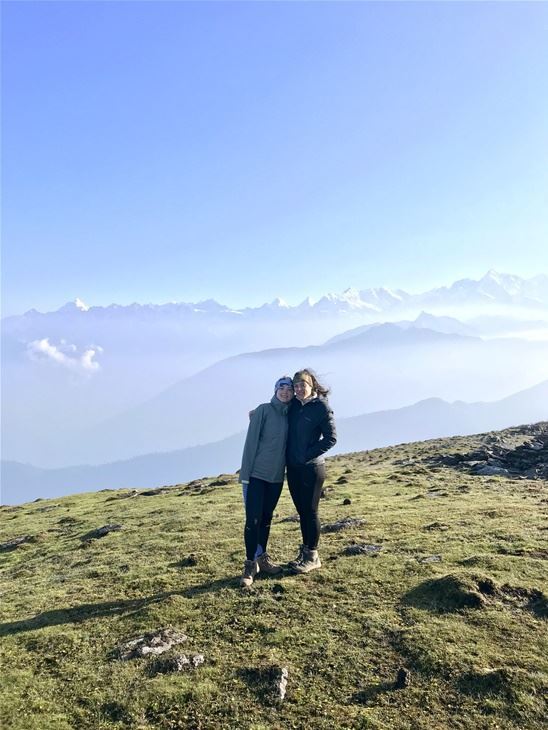 We were pleasantly surprised everyday by something or other, one memory that stuck with me was when we passed by a local school and the children could barely contain their excitement at the chance of practising their English with us and just generally being in our company. It was such a lovely moment along our trek as they asked to take photos with us (on our phones) and were so delighted with the results - for me it was such a poignant reminder that although they have so little, they remain so happy and are relentlessly kind to others.
As we neared the end of our journey with much lower altitude, we came into bigger villages which even had a menu for dinner and intermittent Wi-Fi - what a treat! We were entering the region where some people begin their journey up to Base Camp, so the infrastructure was much more accustomed to tourism. We spent our last night rewarding ourselves with Nepalese pizza and beer, whilst teaching the locals our favourite card games; it was always such a lovely, welcoming atmosphere.
We returned to Kathmandu in our sturdy jeep with tremendously fond memories of our walking journey to Peekey Peak. It is certainly an experience I will never forget, and one I would happily repeat in the future.
I hope the account of my trip has helped with your travel decisions and encouraged you to visit Nepal. I definitely recommend this to anyone who wants to visit this beautiful country (who is sadly still recovering from the devastating Earthquake in 2015) but may be put off by high altitude. As stated at the start, Peekey Peak Trek is an exceptional lower altitude alternative to the more challenging, busier routes, without any compromise on your cultural or walking experience. I can guarantee this is true from my personal experience. Nepal has so much more to give!
VIEW WALKING HOLIDAYS IN Nepal